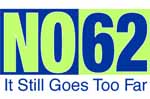 [2]
Amendment 62 An attack on health care access, would halt in-vitro and medical options for families
Physicians and families today detailed the dangers of how Colorado's Amendment 62 could decimate the ability of Colorado families to have children.
Dr. Ruben Alvero, who specializes in treating infertility, noted that one in eight couples in the United States use in-vitro fertilization and other forms of Assisted Reproductive Technology (ART) to have a family.
"Amendment 62 would deny those couples a medical solution to their infertility and a vital option by which to build their families," Alvero said.
Amendment 62 is on the Nov. 2 statewide ballot. If passed, it would extend legal and constitutional rights to fertilized eggs. Alvero, along with several other speakers at a noon event at the Chancery building in downtown Denver, highlighted likely outcomes.
The use of stem cell research to seek cures for spinal cord injuries, diabetes, Parkinson's, and Alzheimer's disease, would certainly be halted, Alvero warned.
Dr. Andrew Ross, a general OB/GYN in Denver, described 62 as an attack on physician-patient relationship. He also shared his and his wife's personal experience with a tragic miscarriage.
"Shortly after we were married, my wife became pregnant," Ross said. "Between six and eight weeks of pregnancy, the heartbeat we had seen on ultrasound disappeared. This is a sad scenario I see regularly in my practice, and medical studies show that one in three women will experience a miscarriage in her life. If Amendment 62 passes, this becomes an unexplained death and would require a coroner's report. My wife's uterus becomes a potential crime scene, and her medical treatment would be delayed."
"[Our opponents] tell us that the criminalization of routine medical care is a scare tactic with no basis in fact, but recent history both in the US and abroad says otherwise," continued Ross, citing intensely restrictive laws in place in Mexico and El Salvador, where abortion is now forbidden in every possible circumstance.
Finally, Jim Burness, the father of a 27-month old daughter who was conceived through in-vitro fertilization, shared his story.
"Right after our wedding, my father-in-law and my mother both passed away," Burness said. "As a result, my wife and I had a strong desire to have a child that would have a biological link to those we lost. In this day and age, I am astounded how any group can think they have a right to dictate whether my daughter can have a biological sibling."

[3]