Astronomy Picture of the Day
Posted By Editor On March 26, 2011 @ 9:10 pm In Photo Essays | Comments Disabled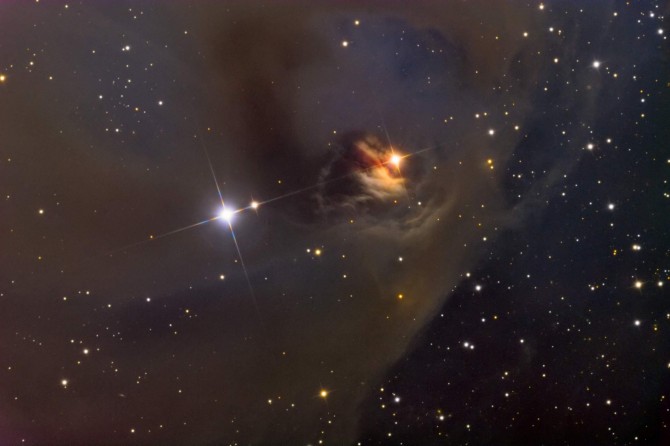 [1]
T Tauri and Hind's Variable Nebula
Image Credit & Copyright [2]: Adam Block [3], Mt. Lemmon SkyCenter [4], U. Arizona [5]
Explanation: The yellowish star near center in this remarkable telescopic skyview [6] is T Tauri, prototype of the class of T Tauri variable [7] stars. Nearby it is a dusty yellow cosmic cloud historically [8] known as Hind's Variable Nebula (NGC 1555). Over 400 light-years away, at the edge of a molecular cloud, both star and nebula are seen [9] to vary significantly in brightness but not necessarily at the same time, adding to the mystery of the intriguing region. T Tauri stars are now generally recognized as young (less than a few million years old), sun-like stars still in the early [10] stages of formation [11]. To further [12] complicate the picture, infrared observations indicate that T Tauri itself is part of a multiple system and suggest that the associated Hind's [13] Nebula may also contain a very young stellar object. The naturally colored image spans about 4 light-years at the estimated distance of T Tauri [14].
Visit the NASA/JPL website to view more Astronomy Pictures of the Day [15]
---
Article printed from Recorder Online: http://www.berthoudrecorder.com
URL to article: http://www.berthoudrecorder.com/2011/03/26/astronomy-picture-of-the-day-44/
URLs in this post:
[1] Image: http://www.berthoudrecorder.com/wp-content/uploads/2011/03/n1555block.jpg
[2] Copyright: http://apod.nasa.gov/apod/lib/about_apod.html#srapply
[3] Adam Block: http://www.caelumobservatory.com/index.html
[4] Mt. Lemmon SkyCenter: http://skycenter.arizona.edu/
[5] U. Arizona: http://www.as.arizona.edu/
[6] telescopic skyview: http://www.caelumobservatory.com/gallery/n1555.shtml
[7] T Tauri variable: http://www.aavso.org/vsots_ttau
[8] historically: http://adsabs.harvard.edu/doi/10.1086/145232
[9] are seen: http://mira.aavso.org/pipermail/aavso-discussion/2004-December/011285.html
[10] early: http://hyperphysics.phy-astr.gsu.edu/hbase/astro/gravc.html
[11] formation: http://archive.ncsa.uiuc.edu/Cyberia/Bima/StarForm.html
[12] further: http://arxiv.org/abs/astro-ph/0406337
[13] Hind's: http://www.daviddarling.info/encyclopedia/H/Hind.html
[14] distance of T Tauri: http://www.astronomy.com/asy/default.aspx?c=a&id=2765
[15] Astronomy Pictures of the Day: http://antwrp.gsfc.nasa.gov/apod/
Click here to print.