Astronomy Picture of the Day
Posted By Editor On October 20, 2011 @ 6:28 pm In Photo Essays | Comments Disabled
Comet Garradd (C/2009 P1) now shines in planet Earth's evening skies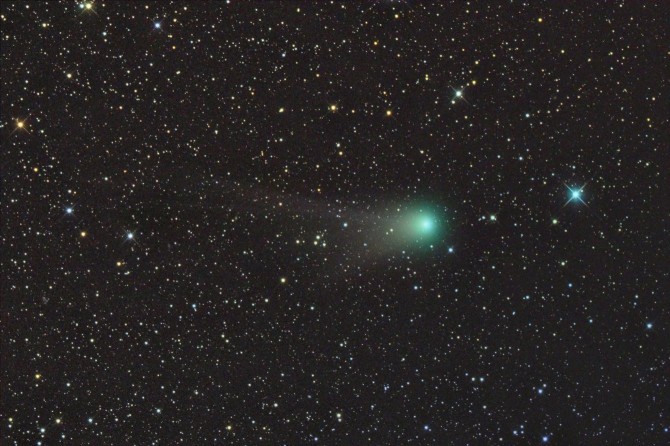 [1]
Tails of Comet Garradd 
Image Credit & Copyright [2]: 
Gregg Ruppel
[3]
Explanation: A good target for binoculars and small telescopes, Comet Garradd (C/2009 P1) [4] now shines in planet Earth's evening skies, a steady performer [5] but just below naked-eye visibility.Telescopic images [3] like this composite from October 15 can find the comet with a lovely green coma, sporting multiple tails, and lingering against a background [6] of faint stars. The field of view spans over 1 degree or about 2 full moons within the southern boundaries of the constellation Hercules [7]. Now around 16 light minutes (2 astronomical units [8]) away, P1 Garradd is an intrinsically large comet, but will never make a very close approach to Earth or the Sun while sweeping through [9] the inner solar system. As a result, the comet will likely stay a sight for telescopic eyes only, moving slowlythrough the sky [10] and remaining in Hercules during the coming months.
---
Article printed from Recorder Online: http://www.berthoudrecorder.com
URL to article: http://www.berthoudrecorder.com/2011/10/20/astronomy-picture-of-the-day-76/
URLs in this post:
[1] Image: http://www.berthoudrecorder.com/wp-content/uploads/2011/10/P1Garradd_ruppel101511.jpg
[2] Copyright: http://apod.nasa.gov/apod/lib/about_apod.html#srapply
[3] Gregg Ruppel: http://www.ruppel.darkhorizons.org/index.htm
[4] Comet Garradd (C/2009 P1): http://www.aerith.net/comet/catalog/2009P1/2009P1.html
[5] a steady performer: http://www.skyandtelescope.com/observing/highlights/128836743.html
[6] a background: http://apod.nasa.gov/apod/ap110909.html
[7] Hercules: http://en.wikipedia.org/wiki/Hercules_%28constellation%29
[8] astronomical units: http://imagine.gsfc.nasa.gov/docs/ask_astro/answers/980122b.html
[9] while sweeping through: http://ssd.jpl.nasa.gov/sbdb.cgi?ID=dK09P010
[10] through the sky: http://www.youtube.com/watch?v=wyydnGoUZ_k
Click here to print.