Hurt Obama, don't hire
Posted By Editor On January 5, 2012 @ 10:13 am In Guest column | Comments Disabled

[1]
Tea Party Group Urges Small Businesses 'Not To Hire A Single Person' To Hurt Obama [2]
By Marie Diamond [3]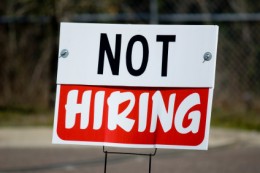 [4]Congressional Republicans have acted shocked and offended [5] at Democrats' suggestions that they are intentionally sabotaging the economy to try to win back the White House in 2012. Republicans have refused to pass President Obama's jobs plan — which experts estimate will create at least 1.9 million jobs [6] — and proposed an alternative plan that Moody's says "will likely push the economy back into recession [7]."
Now influential Tea Party leaders are throwing caution to the wind and openly lobbying business owners to stop hiring in order to hurt Obama politically. This week, Right Wing Watch picked up [8] on a message Tea Party Nation sent to their members from conservative activist Melissa Brookstone.
In a rambling letter titled "Call For A Strike of American Small Businesses Against The Movement for Global Socialism," Brookstone urges businesses [9] "not hire a single person" to protest "this new dictator":
Resolved that: The current administration and Democrat majority in the Senate, in conjunction with Progressive socialists from all around the country, especially those from Hollywood and the left leaning news media (Indeed, most of the news media.) have worked in unison to advance an anti-business, an anti-free market, and an anti-capitalist (anti-individual rights and property ownership) agenda. [...]  Read More [2]
---
Article printed from Recorder Online: http://www.berthoudrecorder.com
URL to article: http://www.berthoudrecorder.com/2012/01/05/hurt-obama-dont-hire/
URLs in this post:
[1] Image: http://www.berthoudrecorder.com/wp-content/uploads/2012/01/think-progress.jpeg
[2] Tea Party Group Urges Small Businesses 'Not To Hire A Single Person' To Hurt Obama: http://thinkprogress.org/politics/2011/10/20/348168/tea-party-group-businesses-hurt-obama/
[3] Marie Diamond: http://thinkprogress.org/author/marie/
[4] Image: http://www.berthoudrecorder.com/wp-content/uploads/2012/01/Not-hiring-sign-e1319058217606.jpg
[5] acted shocked and offended: http://thehill.com/homenews/senate/188373-republicans-angry-about-reid-claim-theyre-rooting-for-failure
[6] 1.9 million jobs: http://www.politico.com/news/stories/0911/63069.html
[7] back into recession: http://thinkprogress.org/economy/2011/10/14/344588/moodys-economist-gop-jobs-plan-recessio/
[8] picked up: http://www.rightwingwatch.org/content/tea-party-nation-urges-businesses-stop-hiring-order-hurt-obama
[9] urges businesses: http://www.teapartynation.com/profiles/blog/show?id=3355873%3ABlogPost%3A1566647&xgs=1&xg_source=msg_share_post
Click here to print.