Oil Pipelines = disasters
Posted By Editor On April 2, 2012 @ 6:46 pm In National & World News,Political & Politicians | Comments Disabled
It seems like a good idea, fast, cheap movement of one of the world's most important resources. Once built, oil pipelines can move the liquid resource quickly and efficiently, thus keeping down the transportation costs.
This is the scenario being described by TransCanada and the Republican Party. Unfortunately, this is only part of the story. The scenario they describe completely ignores what happens when the pipe breaks, and the pipes will break. It is not a matter if, but when. It seems that when the pipelines burst, it is always at the worst possible time at the worst possible place. The results of the oil spills are often described using terms like "catastrophe" or "disaster."
The incidents in the articles below illustrate just how damaging the oil spills are and the consequences in environmental damage and financial cost involved.
The Talmadge Creek/Kalamazoo River oil spill is particularly instructive because it involved tar sands oil. Clean up of the spill was originally estimated to take 30-60 days and cost $5 million. A year later, 35 miles of the river is still closed and the cost have passed $585 million.
Why the additional cost? Tar sands oil is much heavier than "light sweet crude" and in order for it to flow in the pipeline; it has to be diluted with solvents. When the oil spilled in Calhoun County, Michigan, families had to be evacuated when those volatiles evaporated into air creating a health hazard. Clean up crews using surface skimming techniques to reclaim the oil on the surface of the creek and marshes soon found that much of the now heavy oil had sunk into the streambed. Cleaning the streambed of a flowing river is a much more complicated task than skimming the surface, hence the 120 fold increase in cost.
This incident has important implications in whether or not to build the Keystone XL Pipeline. For the few short term jobs the building of the pipeline will create and the lack of any benefit to the United States (the oil is to be refined for export, tax free) needs to be weighed against the environmental damage that will happen and the cost to those citizens near the spill site in health, income and quality of life and the cost to taxpayers to clean up the spill. As one can see, experience indicates that a clean up of tar sand oil will likely cost 100 times as much as normal oil spill.
There are no black and white answers here. As so often happens, the short term benefits must be weighed against the long term costs of any project. We end this collection with an article from  investment advisor, "The Motley Fool" discussing the viability of investing in pipelines. They note that most of the "hype" about the pipe is untrue. In addition to weighing benefits, one must first find out which of the "facts' being thrown about is really true.
Published on Tuesday, March 14, 2006 by the Independent [1] / UK
 A burst pipeline in Alaska's North Slope has caused the Arctic region's worst oil spill, spreading more than 250,000 gallons of crude oil over an area used by caribou herds and prompting environmentalists again to question the Bush administration's drive for more oil exploration there.
The leak was first spotted by a British Petroleum worker 11 days ago, and was reported to have been plugged a few days later. Initial hopes expressed by BP that the spill was limited to a few tens of thousands of gallons proved to be over-optimistic. Alaska's Department of Environmental Conservation has steadily increased its estimate of the size of the spill, the latest estimate putting it at around 265,000 gallons.
The leak, whose cause is unknown, occurred in a remote part of the most sparsely populated state in the United States, and it remains to be seen what damage, if any, it has done to ecosystems. It does, however, give grist to groups who have challenged Washington's assertion that oil can be prospected and shipped while leaving only the gentlest of "footprints" on the landscape. … Read More [2]
BP pipeline leaks oily mixture onto Alaskan tundra [3]
(Reuters) – BP reported yet another pipeline leak at its Alaskan oilfields, frustrating the oil giant's attempts to rebuild its reputation after the Gulf of Mexico oil spill.
BP said on Monday that a pipeline at its 30,000 barrel-per-day Lisburne field, which is currently closed for maintenance, ruptured during testing and spilled a mixture of methanol and oily water onto the tundra. … Read More [3]
by Sue Sturgis
The environmental disaster that began unfolding last week when an ExxonMobil pipeline ruptured in Montana and spilled an estimated 42,000 gallons of oil into the Yellowstone River highlights the serious environmental risks associated with the oil industry's infrastructure — and foreshadows the problems likely to arise if that infrastructure spreads to other states that are now considering offshore drilling.
The Houston-based oil giant reports [8] that more than 280 personnel are now involved in cleaning up the spilled oil, which has contaminated farms and other properties along the scenic waterway. … Read More [7]
Wikipedia and the Enbridge/ Talmadge Creek/Kalamazoo River Leak [9]
Kalamazoo River oil spill [10]
A Michigan environmental disaster
Sometime between July 25 and 26 a pipeline near Marshall broke spilling more than 819,000 gallons of oil into a creek that drained into the Kalamazoo River. The result is one of Michigan's largest environmental disasters ever. … Read More and see photos [10]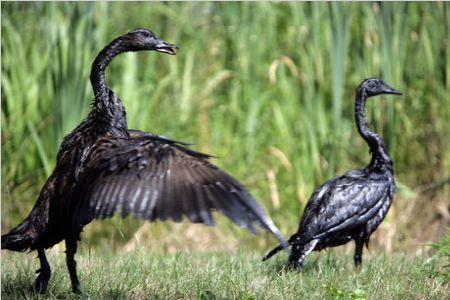 [11]Michigan Wildlife Struggles to Recover from Kalamazoo River Oil Spill 
By Marilisa Kinney Sachteleben [12]
The Enbridge oil spill in Michigan's Kalamazoo River near Talmadge Creek last year is said to be one of the worst environmental disasters in the Midwest. The spill galvanized a massive clean-up effort and has affected many varieties of local wildlife [13]. The spill has other effects, too. A look at oil spill problems:
843,000: Gallons [14] of crude oil that spilled from the Enbridge 6B pipeline [15] and pumped into the Kalamazoo watershed in July 2010.
30: Miles of riverbanks coated with heavy oil from the spill.
33.9 million: Dollars the cost [16] to the Environmental Protection Agency to clean up the spill. The EPA says Enbridge must repay all costs incurred.
766,288: Gallons of oil salvaged from the spill.
6 million: Gallons of oil and water that was disposed of.
144,942: Cubic yards of soil or debris that had to be discarded. … Read More [17]
A Closer Look at Investing in Pipelines [19]
By Travis Hoium [20]
The normally quiet world of moving oil and natural gas around the country as hit the front page in recent weeks and months as investors, environmentalists, and politicians weigh in on the industry.
Some of the news has made me bullish on pipeline owners, some has me worried about their risks, and another piece is full of complicated opinions. Here's a look at what these three moves mean for shareholders and how to invest [21] in pipelines now.
Pipelines and protests
On the surface, the Keystone XL pipeline proposed by TransCanada (NYSE: TRP [22]   [23]) looks like a no-brainer. Bring more oil in from Canada, reduce our reliance on other foreign oil, and create (by Fox News' wild statements) up to a million new jobs in the process. But there's much more to the story than that.
On the jobs front, unless the oil is going to be passed hand-to-hand from Alberta to Texas, I can't imagine how in the 1 million jobs would be created. In fact, TransCanada estimated only a few hundred long-term jobs would be created, and the short-term ones would only amount to a few thousand. The only independent study said that the net [24] effect would be a grand total of zero jobs created. … Read More [19]
---
Article printed from Recorder Online: http://www.berthoudrecorder.com
URL to article: http://www.berthoudrecorder.com/2012/04/02/oil-pipelines-disasters/
URLs in this post:
[1] Independent: http://www.independent.co.uk
[2] Burst Oil Pipeline Causes 'Catastrophe' in Alaska : http://www.commondreams.org/headlines06/0314-09.htm
[3] BP pipeline leaks oily mixture onto Alaskan tundra: http://www.reuters.com/article/2011/07/18/us-oil-alaska-spill-idUSTRE76H0VA20110718
[4] Yereth Rosen: http://blogs.reuters.com/search/journalist.php?edition=us&n=yereth.rosen&
[5] Tom Bergin: http://blogs.reuters.com/search/journalist.php?edition=us&n=tom.bergin&
[6] Facing South: http://www.southernstudies.org/2011/07/exxons-yellowstone-oil-spill-shows-pipeline-risks.html
[7] Exxon's Yellowstone Oil Spill Shows Pipeline Risks: http://www.commondreams.org/headline/2011/07/06-5
[8] reports: http://www.businesswire.com/portal/site/exxonmobil/index.jsp?ndmViewId=news_view&ndmConfigId=1001106&newsId=20110704005405&newsLang=en
[9] Wikipedia and the Enbridge/ Talmadge Creek/Kalamazoo River Leak: http://en.wikipedia.org/wiki/Talmadge_Creek_oil_spill
[10] Kalamazoo River oil spill: http://www.lansingstatejournal.com/article/99999999/NEWS01/307270024/Kalamazoo-River-oil-spill
[11] Image: http://www.berthoudrecorder.com/wp-content/uploads/2012/04/oilbird.jpg
[12] Marilisa Kinney Sachteleben: http://contributor.yahoo.com/user/24853/marilisa_kinney_sachteleben.html
[13] many varieties of local wildlife: http://www.battlecreekenquirer.com/article/20111104/OILSPILL/111040320/1002/NEWS01
[14] Gallons: http://michiganmessenger.com/46106/enbridge-denies-responsibility-for-oil-spill
[15] Enbridge 6B pipeline: http://www.youtube.com/watch?v=QIk68Osbg9E&feature=relmfu
[16] Dollars the cost: http://www.epa.gov/enbridgespill/
[17] Read More: http://news.yahoo.com/michigan-wildlife-struggles-recover-kalamazoo-river-oil-spill-230700283.html
[18] Image: http://www.berthoudrecorder.com/wp-content/uploads/2012/04/MotleyFool.jpg
[19] A Closer Look at Investing in Pipelines: http://www.fool.com/investing/general/2011/11/18/a-closer-look-at-investing-in-pipelines.aspx
[20] Travis Hoium: http://my.fool.com/profile/tmfflushdraw/info.aspx?source=iapsitlnk0000002
[21] how to invest: http://wiki.fool.com/5_Questions_to_Ask_When_Investing?utm_source=Fool&utm_medium=links&utm_campaign=how%20to%20invest&source=ihlsitlnk0000001
[22] TRP: http://caps.fool.com/Ticker/TRP.aspx?source=isssitthv0000001
[23]  : http://my.fool.com/watchlist/add?ticker=TRP&source=iwlsitbut0000010
[24] net: http://wiki.fool.com/Gross_Earnings_vs._Net?utm_source=Fool&utm_medium=links&utm_campaign=net&source=ihlsitlnk0000001
Click here to print.