Whole Foods CEO, John Mackey, doesn't know what a fascist is.
Speaking with NPR this week, multimillionaire Mackey tried to express [3] how much he hates Obamacare. Back in 2009, he hated Obamacare so much that he called it "socialism." But now, in 2013, Mackey thinks Obamacare is "fascism."
"Technically speaking, [Obamacare] is more like fascism," he said. "Socialism is where the government owns the means of production. In fascism, the government doesn't own the means of production, but they do control it, and that's what's happening with our healthcare programs and these reforms."
Mackey has since walked back [4] this description saying he "regrets using that word now" because there's "so much baggage attached to it."
But, whether Mackey meant to or not, it's about time someone injected the word fascism back into our political debate. Especially now that corporations wield more power today than they have in America since the Robber Baron Era.
First, let's take on Mackey's definitions of socialism and fascism, which he likely procured from the Google machine after typing in, "What are the differences between socialism and fascism?"
Yes, socialism encourages more democratic control of the economy. Or, if Mackey insists, more government ownership of the economy – in particular, ownership of the commons and natural resources.
Fascism, on the other hand, is something completely different. Reporter Sy Mukherjee, who blogged about this story over at ThinkProgress.org notes [3], "Although fascist nations do often control their 'means of production,' Mackey seems to have forgotten that they usually utilize warfare, forced mass mobilization of the public, and politically-motivated violence against their own peoples to achieve their ends."
The 1983 American Heritage Dictionary defined fascism as: "A system of government that exercises a dictatorship of the extreme right, typically through the merging of state and business leadership, together with belligerent nationalism." …

[2]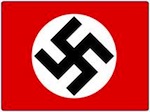 [5]
For more on Fascism in America, See