The 65th annual Rocky Mountain Stamp Show (RMSS, formerly ROMPEX) will take place May 16 – 18 at the Crowne Plaza Hotel / Denver International Airport, 15500 East 40th Ave., Denver, Colorado. The RMSS room rate at the Crowne Plaza is $99/night, rooms are available for the week of the show. Hotel reservations may be made at https://resweb.passkey.com/go/RMstamp or use the link on the Rocky Mountain Stamp Show website 24 hour complimentary airport shuttle is available.
This is a World Series of Philately show with 300+ frames of exhibits along with a bourse of 35+ dealers from around the United States. Guest societies this year are The Postal History Society, Scouts on Stamps Society International (SOSSI) and the United Postal Stationary Society (UPSS). The show will also feature meetings of local societies and seminars on philatelic subjects with a "focus on World History through Stamps".
New this year, Stamp Camp USA / Denver will be offering an educational and participatory "hands on" experience for children. Also offered will be the Boy Scout Stamp Collecting Merit Badge, merit badge counselors will be onsite to help.
At the What's in Your Attic table, local experts will offer free, no obligation advice about inherited stamp albums, old family stamp collections and purchased collections and offer suggestions about how you may sell or donate them. Other information about stamps is also available but volunteers cannot do appraisals or give estimates of the dollar value of material.
There will be an onsite silent stamp auction hosted by the Rocky Mountain Philatelic Library. The auction is open to the public.
The show will be open on Fridays / Saturdays from 10:00 AM – 6:00 PM and Sunday from 10:00 AM – 3:00 PM. During the show there will be multiple drawings for door prizes. Take a chance at winning an "Upside down Jenny" right side up pane, plus other valuable door prizes.
Further information about the show, including the exhibition prospectus, entry forms and admission coupons can be downloaded from the show website at www.rockymountainstampshows.com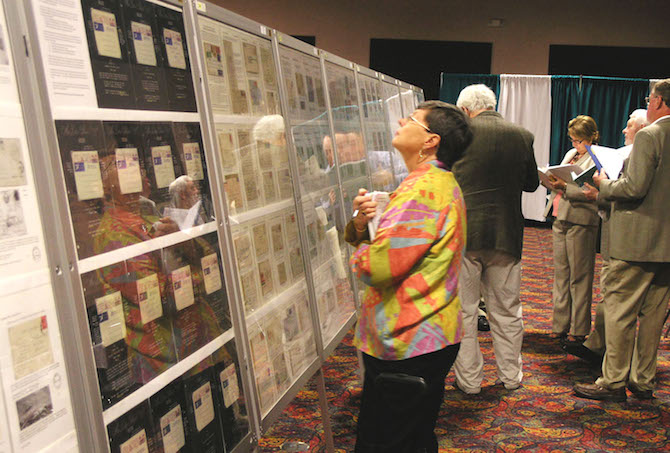 Print This Post