Five Thompson School District graduating seniors were recipients of the Jabaily Community Service Scholarships for 2011. The Jabaily Community Service Scholarship Fund, in cooperation with the Community Foundation of Northern Colorado, commemorates Dr. Joe Jabaily's generous human qualities and his deep commitment to community service. The scholarship is given annually to a graduating senior or seniors in the Thompson School District. The award is available to any college bound senior in good standing whose life activities include political and environmental activism, concern for civil rights and minorities, support for world peace and respect for the diverse beliefs of others.
Following the ceremony, the scholarship winners pose with Leslie Jabaily and Jim Disney. Left to right: Molika Keeler, Ben Williamson, Lauren Sawinska, Leslie Jabaily, Jim Disney, Kacey Hilgenberg and Dylan Gardner.
These special students were honored on Friday evening, surrounded by family and friends and supporters of this scholarship. Jim Disney acted as master of ceremony as Leslie Jabaily looked on. The atmosphere of this award is informal and friendly, with the students and their families having the opportunity to meet the Leslie Jabaily and her friends and supporters who work to honor Joe Jabaily's legacy. Disney challenged each student to tell the group how they got started down the path of community service and to explain how we might encourage others to the endeavor. These fine young people were up to the challenge and their answers were greeted by applause from those in attendance.
These graduating seniors realize the special significance of this award, given in the presence of Leslie Jabaily and the community of donors who make it possible. Berthoud senior, Lauren Sawinska expressed the sentiment shared by all, "It is a great honor to receive this scholarship give in remembrance of such a remarkable man. I hope to continue to serve the people of my community for the rest of my life."
The students honored show an exceptional commitment to serving the public.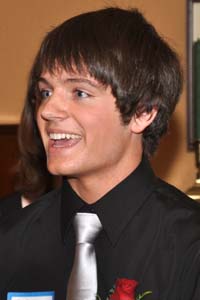 Dylan Gardner, Loveland High School, began a career in community service as a sixth grader with a project directed at pedestrian safety. Since then, he has been active with many service organizations, including Key Club, National Honor Society, Peer Ambassadors, and Student Council. In his post high school endeavors, Dylan vows "to never Losse my passion and drive to serve my community, as well as society as a whole." According to one of his teachers, "If our future is in the hand of young people like Dylan Gardner, then we should be thankful and hopeful.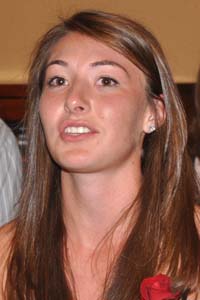 Kacey Hilgenberg, Loveland High School, has always dreamed of becoming a teacher and has dedicated herself to the dream by volunteering in local classrooms. This experience has been meaningful to her as it "provides me with the training to fulfill my dream while helping children obtain the skills to fulfill their dreams." Her many extra-curricular activities illustrate her desire to give back to her community. Kacey will attend the University of Northern Colorado to pursue her goal to teach and has been accepted to a special program to train her in "English as a Second Language."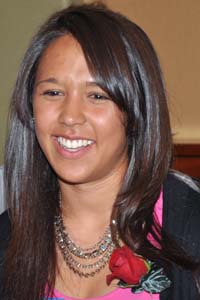 Molika Keeler, Loveland High School, sates that her core beliefs are "the value of education, community involvement and tolerance of others." These values are reflected in her high school career, as she has distinguished herself as an athlete, coach, superior student and active participant in many service clubs. One teacher says of Moli, "Her commitment to, 'doing the right thing,' as well as to, 'doing the thing right,' serves her well. As an undergraduate, Moli plans to be an active part of her university community. She would like to attend medical school after college.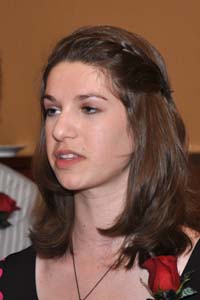 Lauren Sawinska, Berthoud High School, became "hooked" on service before her freshman year as a volunteer with the Berthoud Public Library. Since then, an impressive cast of service groups have benefited from Lauren's participation and dedication. Among her favorites are the Berthoud Tutoring Program and the Go MAD (Make a Difference) club, which she co-founded in her senior year. Says one teacher, "Lauren has a heart for others; she has a heart for positive change; she has a heart that will not give up even when difficulties arise."
Ben Williamson, Thompson Valley High School, has traveled far and wide with building and neighborhood improvement projects, and found himself building relationships simultaneously. "These trips," he relates, "have offered me new perspectives and have unearthed my desire to aid the people of different cultures." At home, he has been active in Food Bank projects, sports, Amnesty International, and several other service groups. One of Ben's sponsors says, "His ability to care, to show concern, and to, most importantly, take action speak volumes… "

Print This Post