By Dani White
Berthoud Recorder
For a unique experience that fuses high caliber entertainment and a delicious, full and fresh-made food menu in one charismatic venue, look no further than the Candlelight Dinner Playhouse in Johnstown. This charming, elegant theater houses a large stage, balcony seating and tiered rows of welcoming tables bejeweled with little lamps. There is an immediate sense of awe and appreciation for anyone attending a show here for the first time. The Candlelight, which celebrated its one-year groundbreaking anniversary last June, is the largest dinner theater in Colorado and one of the only equity theaters in the area.
The current program running through August 23 is a specially arranged stage adaptation of "The Wizard of Oz." This version of the show is the most similar to the film that we all know and adore, with a few creative quips for fans of all ages. The cast is comprised of professional Colorado-based talent and members of the Actor's Equity Association. All of the famous songs and endearing characters are happily accounted for, including a wickedly talented Wicked Witch of the West. There is also the lovable, comical trio, the Lion, Scarecrow and Tin Man, a sweet-voiced Dorothy and a real (very well-trained) Toto.
Some of the favorite characters also serve the food and drinks, adding an intimate and interactive quality to the experience. The stage sets and costumes are amazing and intricate. The music, acting and choreography are equally impressive. The extraordinary Candlelight Dinner Playhouse rivals Denver and other major dinner theaters in the area. This is one venue to put on top of your entertainment list. There is no place like this Colorado hometown theater.
Show only, season tickets, flex passes and group rates are available. For tickets and questions contact (970) 744-3747 or www. ColoradoCandlelight.com.
News Image: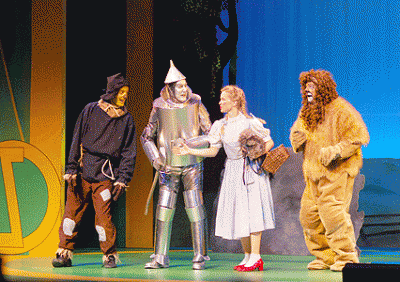 Long Description:
<p>Dorothy (Katrina Despain) and Toto (Bella) travel the yellow brick road to Oz with the Scarecrow (Brian Burron), Tinman (Craig Lundquist) and Cowardly Lion (Patrick Sawyer).</p>
Category Lead:
Category Primary Featured Story
Home Lead:
Home Page Primary Featured Story

Print This Post