By Shari Phiel
Berthoud Recorder
For more than 50 years, the Colorado Shakespeare Festival has been bringing the comedies, tragedies and histories of the incomparable English bard to sold-out audiences in Boulder. The second-oldest Shakespeare festival — and one of the top three according to Time magazine — in the country, CSF kicked off its 2009 season on July 2 to a packed audience with Shakespeare's longest play, "Hamlet."
Since joining CSF as producing artistic director in 2007, Phillip Sneed has expanded the performance calendar to include more non-traditional works. In June, CSF received a 2009 Henry Award from the Colorado Theatre Guild for last season's "American Song" by Woodie Guthrie, the first-ever musical performed by CSF. This year's non-traditional lineup includes Harper Lee's "To Kill a Mockingbird" and "The Complete Works of William Shakespeare (Abridged)."
But make no mistake, this is still a Shakespeare festival, and in addition to "Hamlet," the only tragedy included, the roster also features the comedies "Much Ado About Nothing" and "The Two Gentleman of Verona."
I was fortunate enough to attend "Hamlet" on opening night and was treated to a well-crafted, thoroughly enjoyable performance, and the absolutely glorious summer evening didn't hurt either. In the 400 years since Shakespeare first penned "Hamlet," the play had been performed countless times by high school drama departments, community, regional and summer stock theatre companies, and don't forget the numerous film and Broadway versions or adaptations. So even though the classic story of murder, betrayal and madness is one of my favorites, and I am well aware of the tremendous reputation CSF has earned, I was still a little reticent.
I'm glad to say I need not have worried. Under the direction of Sneed, the production remained true to the bard's original story and words, while providing enough of a difference to keep it fresh and engaging.
The set decoration, lighting and judicious use of music thoroughly captured the dark and somber tone of the play, while an interesting mix of period costumes, from Shakespeare's own Elizabethan era through the Victorian age and perhaps even a little 1920s flapper–style floral dress and high heels thrown in, gave the performance immediacy and relevance.
Taking the lead as Hamlet is Stephen Weitz, who has appeared in numerous other Shakespearean works with the CSF, Denver Center Theatre Company and the Alabama Shakespeare Festival. Weitz's performance as the undoubtedly impassioned, but questionably sane, hero seeking to avenge his father's murder was delivered at times with great passion and force, and with subtlety and delicacy at others.
Another standout performance was that of Sam Sandoe as Polonius, Oephelia's father and councilor to King Claudius. Sandhoe's comedic timing and delivery was superbly done and made Shakespeare's frequent use of iambic pentameter and anaphora nearly unnoticeable. Sandoe will also appear as the Duke of Milan in "The Two Gentleman of Verona."
The remaining cast members were all equally good and deserve equal praise. Dennis Elkins as the murderous Claudius, Tamara L. Meneghini-Stalker as Hamlet's mother Gertrude and Jamie Ann Romero as the classic symbol of madness Oephelia brought depth and texture to their performances. There were even one or two surprises in casting that lent new meaning to the dialogue, but I will leave that for those who attend a performance.
If you will be attending one of the outdoor performances, be prepared for inclement weather. A rain jacket or poncho are the best choices but, for obvious reasons, don't bring an umbrella. CSF does provide stadium seats free of charge, and were actually more comfortable than the one I brought. Beverages can be brought into the theatre, but glass containers are not allowed.
The "Bard's Yard" offers a great area for a picnic prior to the show, and gourmet picnic suppers are also available for purchase through the Falstaff's Fare page on the CSF Web site. Suppers must be ordered two days in advance.
The Colorado Shakespeare Festival runs through Aug. 15; check the Web site calendar at www.ColoradoShakes.org for specific performance dates and times. Adult ticket prices run $9 for single, upper level seats to $81 for dress circle (front row) seats. Youth seats (ages 13-17) are $7 to $19 and kids seats are $5. Tickets can be purchased online or at the box office day of show.
News Image: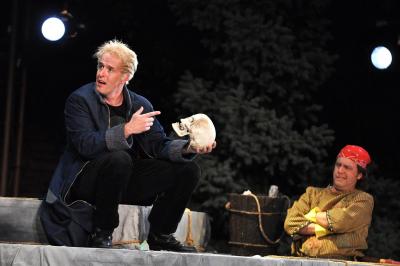 News Image: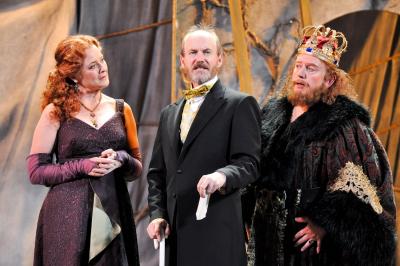 News Image: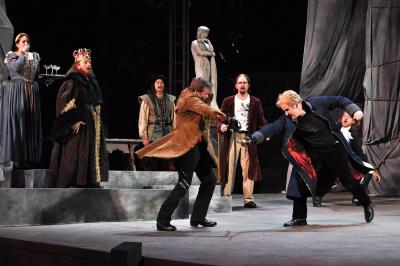 Long Description:
<p><span style="font-size: small;"><span style="font-family: arial,helvetica,sans-serif;">Hamlet, played by Stephen Weitz, discovers the skull of court jester Yorik as the gravedigger, played by Gary Alan Wright, looks on.</span></span></p>
Long Description:
<p><span style="font-family: arial,helvetica,sans-serif;"><span style="font-size: small;">Hamlet's mother Gertrude, played by Tamara L. Meneghini and uncle Claudius (right), played by Dennis Elkins, listen to the &lsquo;sage&rsquo; council of Polonius, played by Sam Sandhoe.</span><br /></span></p>
Long Description:
<p><span style="font-size: small;"><span style="font-family: arial,helvetica,sans-serif;">Grief-stricken by the death of his father and sister, Laertes grapples with Hamlet. From left: attendant (Deanna Greif), Claudius (Dennis Elkins), attendant (Robert Wester), Laertes (Mat Hostetler), Horatio (Timothy Orr) and Hamlet (Stephen Weitz).</span></span></p>
Category Lead:
Category Lead Story

Print This Post