By Michael Hicks
Special to the Recorder Online
DENVER — Maybe it's just in a day's work, but Robbie Workman made his opening match in the 4A state wrestling championships Thursday night at the Pepsi Center look way too easy.
So did Alex Sadlo and Marcus Lucero. Shoot, Casey Couch and J.T. Pickert didn't do too bad, either. All five Berthoud wrestlers that Scott Pickert bought to this year's championship advanced to today's quarterfinals. The Spartans finished the first day sixth in team points with 15.5. Northern Conference foe Roosevelt leads the 4A class with 32, followed by Broomfield with 27.5 and Windsor with 18.5.
Workman (43-2), a sixth-place finisher the past two years, disposed of Mesa Ridge's Clinton Husband with a 16-0 technical fall in the second period.  As decisive as the win was it might've been over even earlier if Workman had caught Husband in the cradle when he wanted to.
"I just went out there and wrestled my game. The cradle was there the whole time," Workman said.
It's probably a good thing that he got it over when he did because today's quarterfinal match against Wheat Ridge's Nick Swanson, a 7-3 decision winner over Nathan Trujillo of Delta, promises to be a tougher task. Workman and Swanson entered the tournament with the best winning percentages of any wrestlers in the 4A 130-pound field and Swanson pinned Workman in last year's consolation semifinals. Workman will also be looking to snap a two-year funk of bowing out of the championship draw in the quarterfinals.
Sadlo (31-4), in his third state tournament appearance, did one better than Workman. The Berthoud junior, who like Workman won a regional championship last week, pinned Canon City's Nick Grooms in 1 minute, 27 seconds. He will wrestle fellow Northern Conference wrestler Matt Omelas of Fort Lupton in today's quarterfinals. Sadlo beat Omelas earlier this year, but he's far from overlooking him.
"I've beat him before not that that helps me out. I can't overlook him," Sadlo said.
Lucero certainly didn't do that with his first-round opponent, Terry Williams of Palisade. Lucero beat Williams twice earlier this season, and like those matches, his 10-4 decision Thursday was very similar. Lucero (37-8) led 4-2 entering the third period before a pair of takedowns and two back points resulted in a quarterfinal match with Alamosa's Dakoda Curtis.
Pickert (31-12), at 215 pounds, nearly pinned himself but he was able to push Rock Canyon's Gary Davis back to the mat and score a second-period pinfall in 2:56. The regional runner-up advanced to face Montrose's Braxton Franz.
"It's a great start. Usually we're pretty dead the first day, but for some reason today we came out a lot better," J.T. Pickert said.
The only person who flirted with disaster was Couch (25-1), a regional qualifier as a freshman who missed last season with a broken femur. He had a much tougher time with Castle View's Gus Marker. Marker actually led 5-3 late in the third period before Couch got a takedown in the final 20 seconds to force overtime and then won it 7-5 in the extra session to advance to today's quarterfinals against undefeated Jordan Passehl of Montrose.
"He kept hanging on my right arm. I knew he was getting tired (and) if I crossed the bar I would get a chance to get a fireman's carry and try to put him on his back there," Couch said of match-tying move late in the third period.
He didn't win it there, but moments later he was moving on just like his teammates.
Quarterfinals winners will advance to Friday's semifinal round, scheduled for 7:15 p.m. A loss in the quarterfinals will drop a wrestler into the second round of the consolation bracket, also at 7:15.
FRIDAY'S QUARTERFINAL MATCHES
130 pounds: Robbie Workman (43-2) vs. Wheat Ridge's Nick Swanson (33-2)
135 pounds: Alex Sadlo (31-4) vs. Fort Lupton's Matt Omelas (29-8)
140 pounds: Marcus Lucero (37-8) vs. Alamosa's Dakoda Curtis (32-7)
189 pounds: Casey Couch (25-1) vs. Montrose's Jordan Passehl (40-0)
215 pounds: J.T. Pickert (31-12) vs. Montrose's Braxton Franz (40-3)
Photos by Michael Hicks
marcus-lucero-vs-terry-williams-day-1-1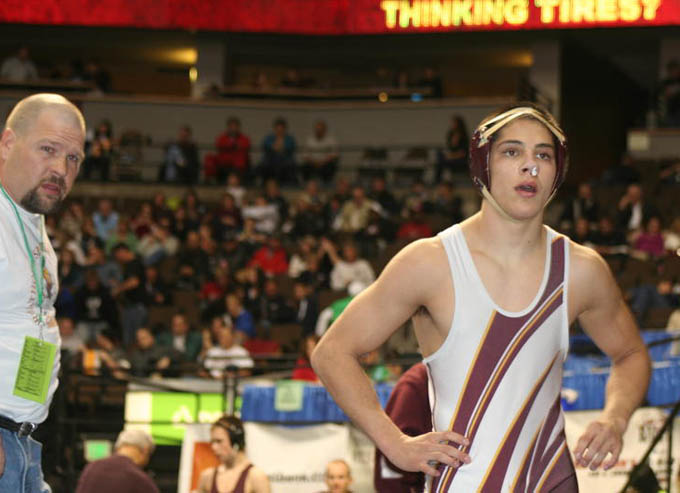 Print This Post