A wicked good time is in store for those who love the art of storytelling, as the Wildfire Community Arts Center Readers present "An Evening of Macabre." Nine cast members recreate their favorite scenes from various works, including "Macbeth," "Nightmare at 20,000 Feet," and all points humorous and mysterious in between.
The readers' theater is a great experience for those who love a certain intimacy between actor and audience. The Wildfire troop are enthusiastic and truly bring their tales to life in a stripped down, black box theater setting.
Caution is advised, however, for Halloween-haters and those who may experience extreme discomfort in the presence of puns.
The public in invited to join in the fun with a costume contest and treats during intermission.
Featuring Peter Bridgeman, Paul Jones, sisters Kelly and Kat Jorgenson, Gary Maggi, Pam Strahan and Larry Westrum, "Evening of Macabre" will run 7:30 p.m. Friday, Oct. 23, Saturday, Oct. 24, Thursday, Oct. 29 and Friday, Oct. 30 at Wildfire Community Arts Center, 425 Massachusetts Ave., Berthoud
Rated PG-13; Admission $10; Reservations recommended WildfireArtCo@hotmail.com or call 970-532-5497. The most outrageously costumed audience member will win a prize. Go to www.WildfireArts.org for more info.
News Image: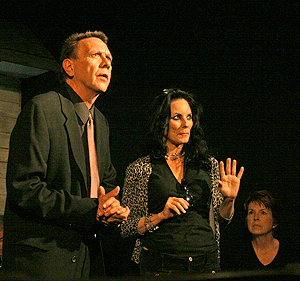 Long Description:
<p>&ldquo;Macabre&rdquo; creator and narrator Rick Padden and co-director Kathleen &ldquo;Morticia&rdquo; Gruman keep the action moving between scenes, as fellow reader Pam Strahan watches for her cue.</p>
Category Lead:
Category Primary Featured Story

Print This Post