Utility Notification Center of Colorado (UNCC) recognizes that many residents will be planting trees for Earth Day and Arbor Day projects next week, so it is important to remember to call 811 at least two working days ahead of time to have underground utility lines marked before digging begins.
Striking a single line can cause injury, repair costs, inconvenient outages and put the environment at risk. Volunteers are responsible for having lines marked, regardless of whether they are planting a sapling or a full-grown tree.
When calling 811, homeowners are connected to the UNCC one-call center, a free service that notifies the appropriate utility companies of the caller's intent to dig. Professional locators are sent to the requested digging site to mark the approximate locations of underground lines with flags or spray paint. Once lines have been properly marked, digging can begin around the marked lines.
Visit www.UNCC.org for full information about UNCC and the call-before-you-dig process.
Category:
News – Community
News Image: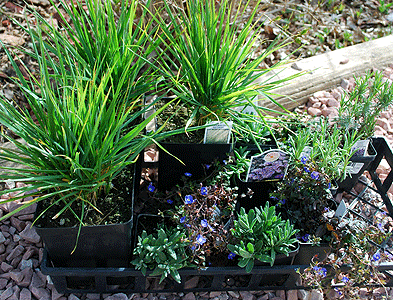 Long Description:
<p>This group of herbs and grass plants is ready to be planted in the ground softened by recent rain and snow.</p>
Category Lead:
Category Primary Featured Story

Print This Post