By John Goreski
Special to the Berthoud Recorder
Berthoud will celebrate Arbor Day this year by "Planting Main Street." The Tree Board, working with Berthoud's Main Street Enhancement Program, the Town of Berthoud and downtown businesses, will place 22 new street trees along Mountain Avenue from Second to Fifth streets. Tree varieties to be planted include Texas Red Oaks, Bur Oaks, Red Barron Crabapple, Greenspire Linden, Triumph and Accolade Elms.
Funding for this project was made possible by a grant from the Colorado Tree Coalition and the Town of Berthoud. Colorado Tree Coalition (CTC) is a nonprofit; through membership and contributions it funds projects, which support tree planting projects throughout the state. They lead efforts to preserve, renew and enhance community forests in conjunction with education about the benefits of urban/community forests.
Activities begin at 9 a.m. Saturday, April 18 in the skate park at Second Street and Mountain Avenue. They hope to plant all 22 trees by noon. Some of the work will be done before Saturday morning, like preparing the holes and having the trees placed next to each planting location.
This year marks 26 years that Berthoud has been recognized as a Tree City USA. The award will be presented by longtime friend to the Berthoud Tree Board, Ray Mehaffey, who, 29 years ago, helped start the local Tree Board program while serving as a district forester at the Colorado State Forest Service.
---
Berthoud's Arbor Day
Saturday, April 18
9 a.m. to noon
Berthoud Skate Park at Second Street and Mountain Avenue
---
RELATED ARTICLE: Call Ahead Before Digging [Click here to read]
Category:
News – Community
News Image: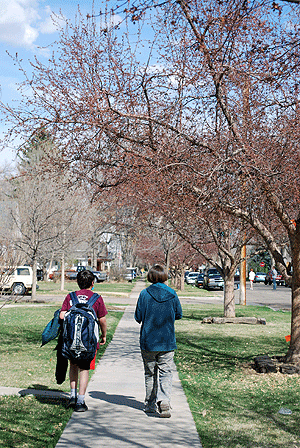 Long Description:
<p>Students walk home from school under budding trees along Massachusetts Avenue.</p>
Category Lead:
Category Lead Story
Home Lead:
Home Page Lead Story

Print This Post