Pat Karspeck and Michelle Hatcher help finish up at the Arbor Day tree planting project. A small army of volunteers spent the morning digging and planting the 22 trees along Mountain Avenue. The final step was the mulching, watering and replacement of the grates. Karspeck and Hatcher fill the bucket while John Goreski and Shilo Hatcher put the finishing touches on the project.
Town Explores Electric Utility Options To Generate Revenue
By Sandy Barnes
Berthoud Recorder
Trustees explored the options of starting a Town electric utility or entering a franchise agreement with existing providers at the Tuesday, April 27 board meeting.
Both alternatives have potential consequences for the Town and its residents. Although intended to generate revenues for the Town, a municipal electric service designed to serve new developments would require undetermined start up and operational costs.
Implementing an electric municipality could also stir legal entanglements for the Town. Xcel Energy and Poudre Valley REA representatives at the meeting said they did not support the enterprise, and cautioned the Town may face lawsuits from their companies if it were to start its own electric utility.
A franchise agreement with Xcel would increase all residents' electric bills by three percent — while adding approximately $60,000 annually to Town revenues. If the Town also entered a franchise with Poudre Valley REA, it would additionally realize about $20,000 in fees.
While answering Trustee Dick Shepard's question about the advantages of signing a franchise with Xcel, representative Todd Anderson said, "The bottom line is that the franchise allows the Town to collect three percent," he said.
Another consideration is that Xcel requires the Town to sign a 20-year franchise agreement, and Poudre Valley REA requires a 25-year commitment.
"Is there any difference in what Xcel does without a franchise?" asked Trustee Jeff Hindman. "No," replied Anderson. He added that one advantage of a franchise would be that Xcel could assist the Town in placing its power lines underground.
Hindman also asked Anderson about Xcel's ability to work with a plan for a neighborhood solar power system using photovoltaic cells to generate electricity.
Anderson said that Xcel usually assists individual homeowners and offers rebates to them for renewable energy, but that his company would consider a community system such as a solar farm. He also pointed out that solar generated power needs a back-up system because there is no way to store it.
Poudre Valley REA representative Patrick Plank also said his company offers rebates to customers on a limited scale for use of geothermal energy and Energy star appliances.
"It makes a lot of sense to pay residents to do this," said Hindman.
"Somebody is paying for the rebates," Plank remarked.
During the discussion, electrical municipalization consultant John Allum offered his views on the benefits of the Town developing an electric utility. While there will be initial costs, the Town can make its own rules and also acquire new customers as territory is annexed and projects developed, he said.
Trustee Glen Buckingham questioned the lack of a business plan for a Town electric utility, which would include upfront costs. "What's not really clear to me is how we go from nothing," he said.
News Image: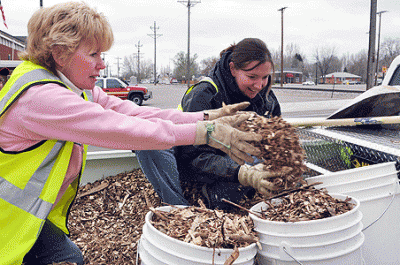 Category Lead:
Category Lead Story

Print This Post