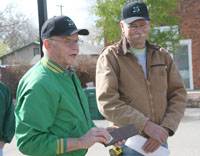 Twenty-seven, the number of rings you would find in the tree planted the first year Berthoud was listed among Tree City, USA Communities, one ring for every year. That heritage continues with Saturday's planting done by Berthoud's Tree Board at three locations around town. Tree Board members; John Goreski, Pat and June Macarelli, arborist, Shiloh Hatcher, and Director of Parks and Recreation, Jeremy Olinger, were hard at work preparing the selected trees to flourish in their new environment. Ray Mahaffe, representing the National Arbor Day Foundation, ceremoniously presented Goreski with a plaque to add to those already hanging in the Town Hall.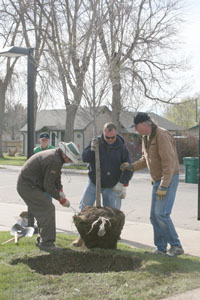 The morning started with a small gathering at the Berthoud Public Library where a Prospector Elm was planted as a living memorial to Alex Sabados. Goreski said, "A lot of the landscape around the library was done by donation in memory of someone. Trees offer a source of joy & spiritual renewal." The Sabados family, embraced by the community, tied five orange balloons to the tree. Alex's favorite color was the orange of his hunting gear.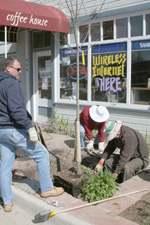 Immediately following the Library ceremony, two more trees were planted; one in front of the coffee house, newly named Da Bean, the other in front of the Wayside Inn.
We invite you to discover the positive impact of giving a tree –planting a living memory, help the environment and beautify the community.
Photos by Carolynn Wamsley

Print This Post