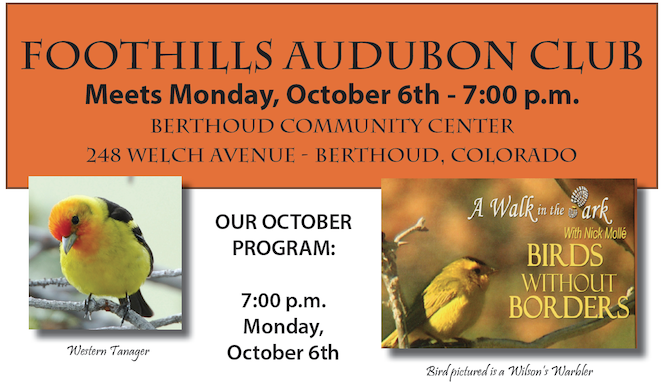 The Foothills Audubon Club will be having its program on Monday, October 6 at 7:00 p.m. at the Berthoud Community Center located at 248 Welch Avenue, Berthoud, Colorado. Prominent local filmmaker Nick Mollé will introduce his film "Birds Without Borders".
In this beautiful film, Nick, along with staff members of Rocky Mountain Nation Park, explore the migratory relationship of four bird species between Rocky Mountain National Park and Monteverde, Costa Rica. From among the over 150 species that share the ecosystems of Colorado and Costa Rica, Western Tanager, Wilson's Warbler, Yellow Warbler and Swainson's Thrush were studied in both locations.
In the conservation of these remarkable birds, both countries share efforts of preservation of habitats and contend with the climate disruption of global
warming that effects these birds.
In addition to "Birds Without Borders", Mr. Mollé has produced "Real Rocky" (adventures in RMNP), "Rivers of the Rockies" (waterways and wildlife of RMNP), "Footprints on the Rockies" (the wildlife of RMNP) and "Bear Lake to Grand Lake" (following the trail across the continental divide) and others. DVDs of "Birds Without Borders" and others may be available for purchase after the program.
After the program, refreshments will be served. This event is free and open to the public, all ages are welcome!
For more information, please call (970) 980-7932 or (970) 532-2194.

Print This Post