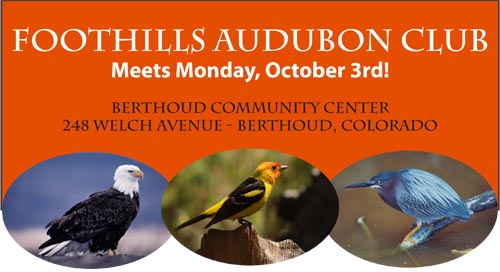 [1]The Foothills Audubon Club will be having their program on Monday, October 3 at 7 p.m. at the Berthoud Area Community Center, 248 Welch Avenue, Berthoud, Colorado.
Please join in for the October program, "Wild Birding Colorado."
Cole Wild is the speaker for the October program and will review his successful 2010 quest to set a record for the most bird species seen in Colorado in one year. Cole tallied an amazing 412 species last year and his presentation will illustrate, through his beautiful photographs, the abundance of birdlife that visits our state. Follow Cole's journeys to see some birds many of us have never seen. He will also point out some of the significant sites in Colorado where one can see both abundant and unique species. Wild has recorded his year-long adventure in a fun-to-read book, "Wild Birding Colorado – The Big Year of 2010," which will be available for purchase and autographing after the presentation.
Refreshments will be served after the program. This event is free and open to the public, all ages are welcome.
For more information, please call (970) 980-7932 or (970) 532-2619.
[2]