Premier Gymnastics of the Rockies at the 2013 Northern Lights Classic
By Julee Graham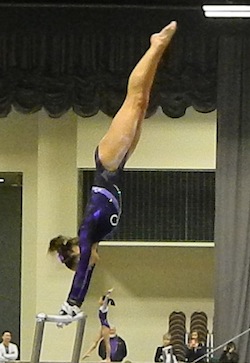 Premier Gymnastics of the Rockies, had one of their own qualify for the prestigious "Event Finals" at the 2013 Northern Lights Classic in Minneapolis this past weekend, March 1- 3, 2013. Gymnasts in levels 8, 9 and 10 that received the top 4 scores for the session from each session (Side A and B), no matter what Division, would qualify to participate in the "Event Finals" on that Sunday afternoon. The event took place in the Minneapolis downtown Convention Center and the Minnesota Twisters were the host. Bailie Holst, level 10, came in second in the All-Around Senior Division. Holst was Vault Champion in the session with a score of 9.625, qualifying her for the "Vault Event Finals" on Sunday afternoon. Holst also placed third on Bars with a score of 9.200, also qualifying her for the "Bars Event Finals". Holst placed fourth on Beam and fifth on Floor. "Event Finals" consisted of only the top rated gymnasts participating from the best gyms around the country. They consisted of 8~ levels 8's, 8~ level 9's and 16~ level 10's (Junior and Senior). Holst placed second on Vault with a score of 9.725 and third on Bars with a score of 9.425, bettering both scores from her earlier qualifying session. Minnesota will be Holst's new home come this June when she begins her college experience with a full scholarship as a Minnesota Golden Gopher Gymnast.
The level 7 and level 8 teams placed fourth in their sessions for the Team competition.
Level 7:
In the 11 and Under Division, Nicole Sims was the Vault Champion with a score of 9.550. In the 12 year old Division, Moira Dillow was Vault Champion with a score of 9.250 and placed third on both Floor and the All-Around. Kaiya Lindhardt placed third on Bars and Jayde Minnis placed fifth on Beam. In the 13+ Division, Kelsey Knuth placed fourth on Vault and third on Floor.
Level 8:
In the 12 and Under Division, Jaxi Melby placed third on Vault. In the 13-14-year old Division, Aryn Archambeau and Morgan Adams tied for fourth on Vault.
Colorado State Championships will be held in the coming weeks. Levels 8, 9 and 10 will be March 16 and 17. The host will be Jet Gymnastics for Kids in Littleton and the venue will be Bear Creek H.S. Level 7 will be April 6 and 7. The host and venue will be Xtreme Gymnastics in Lafayette.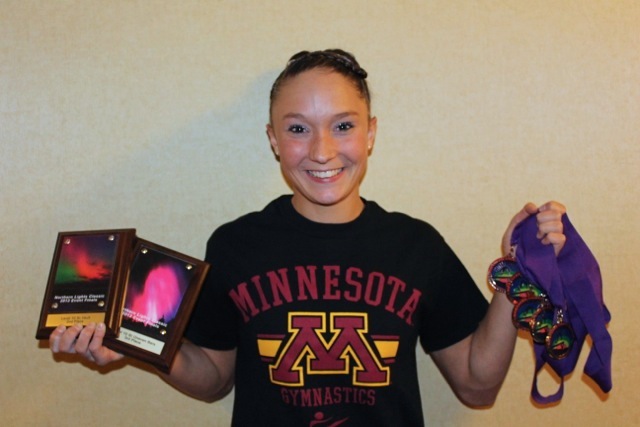 Bailie Holst with her Medals and "Event Finals" Plaques

Print This Post