A Perennial Love Affair
By Charleen Barr
Master Gardener in Larimer County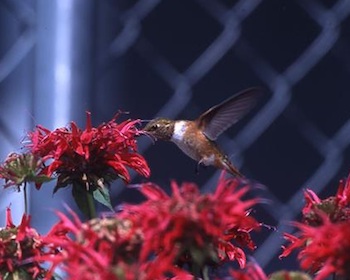 Bee Balm (Monarda didyma) is a perennial love affair with butterflies, bees, hummingbirds and other nectar-seeking creatures that covet the tubular flowers. Gardeners love the stunning colors, borders, edible flowers, bouquet arrangements and the leaves and flowers that can be made into tea. Other common names include horsemint, wild bergamot, and Oswego tea.
Monarda is a member of the mint family and there are dozens of cultivars and species that grow well along the Front Range. Scarlet bee balm (Monarda didyma) is a native plant with deep red flowers that have the perfect shape hummingbirds and bees love for extracting nectar. Another native species is Monarda fistulosa, also called wild bergamot, a pink-flowered plant that is an absolute insect magnet — in a good way. Tea drinkers will love the lemony foliage of wild bergamot that adds distinctive flavor to Earl Grey tea.
The bee balm flower is edible as well as medicinal. Its leaves, flowers and stems have been used as a gastrointestinal remedy, antiseptic, diuretic, and stimulant. The flowers can also be used in garnishing salads adding while adding beauty to its presentation. The plant is known as "Sonoran oregano" because its dried leaves can be used as replacements for oregano in cooking. The crushed leaves produce a peppery flavor and can be used to season bean dishes, pasta, pizza and stews. Bee balm is also a source of oil of thyme. Native Americans have used this plant for treatment of infections and diseases such as colds, cough, stomachache, fever, and other illnesses.
Plant developers have produced many varieties and cultivars with different flower colors and characteristics. Growers have also worked to reduce one of bee balm's flaws — its susceptibility to mildews. 'Jacob Cline' is a very popular variety because it resists powdery mildew better than other bee balms. 'Coral Reef' monarda has a hot pink color as well as mildew resistance. Another popular cultivar is 'Marshall's Delight', a pink variety developed at the Chicago Botanic Garden.
As a vital element in summer gardens, bee balm combines beautifully with other perennials, ornamental grasses, and annuals. Many cultivars are hybrids of Monarda didyma and M. fistulosa (wild bergamot), 'Colrain Red' – deep purplish red flowers, mildew resistant; 'Jacob Cline' – large, bright red flowers, mildew resistant; 'Marshall's Delight' – lavender-pink flowers, mildew resistant; 'Petite Delight' – compact, 16-inch-tall plants, lavender-rose flowers, fair mildew resistance; 'Purple Mildew Resistant' – strong purple flowers, mildew resistant; 'Raspberry Wine' – strong purplish red flowers, mildew resistant; 'Rose Queen' – purplish red flowers, mildew resistant; 'Violet Queen' – strong purple flowers, mildew resistant.
Monarda didyma is hardy in USDA zones 4-9. It grows best in full sun but will tolerate light shade. The soil should be consistently moist. Cutting the flowers after they finish blooming can stimulate a second flowering. In the fall, prune bee balm to within an inch of the ground. Monarda grows from two to four feet tall depending on the variety.
Bee balm should be divided every three years to keep them looking tidy. Dig up the root clump in the early spring, discard the older, inner portions, divide the remaining parts and re-plant the new divisions 12 to 15 inches apart.
Having a garden where bees, hummingbirds and butterflies hover is such an enjoyable sight to experience. The secret to attracting these nectar-sucking pollinators in your garden is in the propagated plants. Though there are plenty of plants, which are also attractive to them, bee balm is perhaps one of the most popular because it has more fluid nectar. A perennial in the mint family, it is rich in color and adds fragrance. Bee balm adds unique beauty to any garden and is a perennial love affair for bees, butterflies, hummingbirds and gardeners.
Photos by Gwyn and Gregg Beam.
The author has received training through Colorado State University Extension's Master Gardener program and is a Master Gardener volunteer for Larimer County.
Larimer County is a county-based outreach of Colorado State University Extension providing information you can trust to deal with current issues in agriculture, horticulture, nutrition and food safety, 4-H, small acreage, money management and parenting. For more information about CSU Extension in Larimer County, call (970) 498-6000 or visit www.larimer.org/ext
Looking for additional gardening information? Check out the CSU Extension Horticulture Agent blog at www.csuhort.blogspot.com for timely updates about gardening around the state.
Visit PlantTalk Colorado ™ for fast answers to your gardening questions! www.planttalk.org PlantTalk is a cooperation between Colorado State University Extension, GreenCo and Denver Botanic Gardens.

Print This Post