"Beef that comes from Highland cattle is lower in fat and cholesterol," said Julie Silva, daughter of ranch owner, Frank Silva. "My Dad started raising them in '91 and loved them so much he never looked back."
The Silva family raises their breeding stock in LaSalle and their beef stock in Erie. They offer grass fed or grain fed beef and the cattle are free of growth hormones, steroids, antibiotic feed additives and animal by-products. "We don't add anything to our beef — ever," declared Silva.
Silva went on to say that the animals are harvested at approximately 24 months old and then are dry-aged for a minimum of 21 days. According to Silva the slower growth means more flavor in the meat. "It's the old fashioned way to raise beef," said Silva. "It takes longer, but it's worth it. The meat is tender and tastes great."
Some of the products available at the Farmers Market are hamburger sausages, brisket, ribs, steaks, roasts, and stew meat. Silva said she is constantly comparing their prices to those at supermarkets and claims their prices are better. "Our beef is cheaper and better tasting."
The Silvas sell their beef at markets up and down the Front Range, but Berthoud residents can find them every Thursday at the Farmers Market on Third Street, from 3 to 7 p.m. For more information checkout their Web site at www.naturalhomesteadbeef.com.
Category:
News – Business
News Image: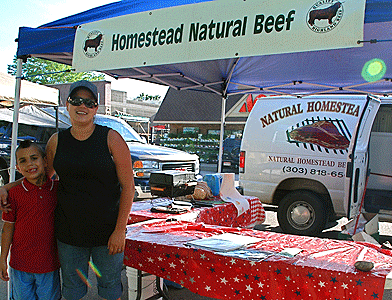 Long Description:
<p>Julia Silva and her son greet folks at the Berthoud Farmers Market.</p>
Category Lead:
Category Primary Featured Story

Print This Post