By Michael Hicks
Berthoud Recorder
Jeff Benjamin, who in June vacated his position as boys soccer coach at Berthoud High School to take a similar role at Mountain View High School, is out as girls soccer coach as well.
Benjamin said on his Web site, www.jbgoalkeeping.com/bhs-soccer, that he was informed by new athletic director Mark Avery earlier this month that the school would go in a different direction with the girls program, and Benjamin wasn't invited back for the girls soccer season in the spring. Benjamin's contract was not renewed at the time of the meeting, both Avery and Benjamin confirmed.

"Once Mark got himself settled into his situation we had a meeting. It ended up being our first one and our last one," Benjamin said. "He was up front given the situation and that he was looking at taking the girls program in another direction. I appreciated that he didn't beat around the bush."
Avery said that felt like the school needed to go in a different direction. The school was accepting applicants, he said, but the process would be closing shortly. Applicants would be pulled and an interview committee would be put together as they tried to fill the vacancy.
Benjamin, who will coach his first game at Mountain View on Sept. 3 against city rival Loveland, said he was disappointed in the decision but would look at it as an opportunity to look for new challenges.
"I haven't really had that much of a chance to think about it. I'm a little disappointed. I knew when I took the Mountain View job on the boys that it was an unusual situation coaching one season at one high school and another season at another," said Benjamin, who, depending on whether there is a girls soccer opening, might look into coaching club soccer in the spring.
Berthoud went 5-9-1 last season in the 4A Northern Conference, missing the postseason for a second consecutive year. The Lady Spartans last made the state playoffs in 2006, earning the final seed in the 32-team field despite a 4-10-1 mark. Berthoud was ousted from the tournament in the first round by top-seeded Cheyenne Mountain, 10-0.
Jim Craft, who served as an assistant coach under Benjamin with the girls program, declined to elaborate but said he plans to apply for the head coaching opening.
News Image: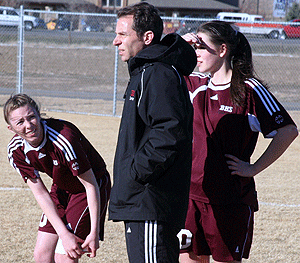 Long Description:
<p><span style="font-size: small;"><span style="font-family: arial,helvetica,sans-serif;">Under coach Jeff Benjamin, Berthoud went 5-9-1 last season in the 4A Northern Conference, missing the postseason for a second consecutive year.</span></span></p>
Category Lead:
Category Lead Story

Print This Post