Nationally known artists participating in Berthoud Art in the Garden Event on June 26
A sculptor who has a piece in the Michael Jackson collection; an artist whose works range from the bold and playful to the mysterious and spiritual; a longtime Berthoud potter and member of the Boulder Potter's Guild whose wall and pole birdhouses and candle lamps are shaped in part by his admiration for the work of ancient Egyptian and middle eastern cultures; a Berthoud metal artist whose innovative designs can be seen all over Northern Colorado.
Berthoud Art in the Garden, an art sale and event combined with many other cultural activities, will feature some of the premier artists in Northern Colorado.  Just to mention a few:
Jane DeDecker of Loveland, Colorado, has sculpture at The Bill Clinton Presidential Center Library, Little Rock, AK; The Braille Institute, CA, and The Michael Jackson collection, Los Olivos, CA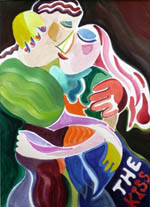 Quinn Reed is a remarkably centered and whimsical colorist as well as a yoga teacher and writer
with past local showings of her paintings at the Longmont ArtWalk, Sage Moon Gallery, Gallery East, Standing Sun Art Gallery, and Berthoud Wildfire Community Arts Center.  Quinn teaches creative art experiences to adults, and her paintings are in collections all over the United States as well as in Italy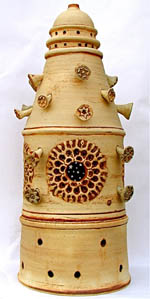 Bob Judson, Lyric Brick Company sells his pottery through the Boulder Potter's Guild and at his studio in Berthoud.  Each piece is hand crafted in the ancient tradition using terra cotta,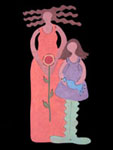 Zink Metal Art is located in Berthoud and represented in galleries in Ft. Collins, Crested Butte, Greeley, Littleton and Glen Haven.  The metal art produced by Charlotte and Ben is seen everywhere in Northern Colorado and is as much a part of the scenery as the foothills.
Susanna Adams, Special crystalline glazes along with a highly controlled firing create magical effects.  The crystals on the porcelain vases take as long as 41/2 hours to grow.  Each vase is unique. Displayed in the past at the  Foothills Art Center, Golden; Boulder Potters' Guild Spring Sale, Open Studios Spring Art Fair, Boulder;  Boulder Art Fair; Boulder Festival of the Arts; Annual Beaver Creek Art Festival
The event is sponsored by Berthoud Arts and Humanities Alliance (BAHA) and Citizens First, a Berthoud Civic Group.  It will take place on Saturday, June 26, 4:00-8:00 p.m. at the historic Waggener home, 980 Mountain Avenue in Berthoud, Colorado.  Park and enter from the North side of the garden on Massachusetts Avenue across from Turner Middle School.  There will be music, wine tasting, gardening talks, and a children's art activity from 4:00 to 6:00 p.m.
Admission is $5.00 for adults and free for children under the age of 12.
For a complete list of featured artists and all the event details, visit www.BerthoudArtintheGarden.com.

Print This Post