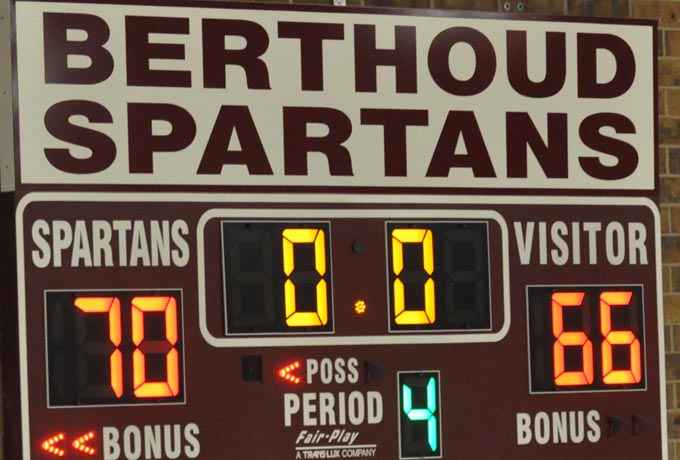 Box Score              1            2              3               4            Final
Berthoud            18            18            15            18            70
Silver Creek         7            15            21            23            66
The Berthoud Boys Basketball team faced a young and big Silver Creek squad. The Raptors have no seniors on the team and have seven players as tall as or taller than Berthoud's Joel Maly. Their tallest player is 6'9".
The Spartans started off making it look easy, their experience outweighing the size advantage of the Longmont school. The Raptors drew first blood but the Spartans responded with two 3-pointers and never looked back.
Berthoud controlled the floor and got more than its share of rebounds. Berthoud did have some difficulty in penetrating the Raptor defense, but was making a high percentage of its outside shots.
Berthoud had sixteen points in the first quarter while holding Silver Creek to seven. Halfway through the second period Berthoud had increased its lead to 28-11 but then the Raptors started chipping away at the lead going into the half with a 14 point deficit.
The second half played out somewhat differently. It appeared that Silver Creek decided to play a much more physical game. With their size advantage and deeper bench, they could afford to accept more fouls. The scoreboard showed the effects with Silver Creek ending up the game with 10 personal fouls and Berthoud 4. A lot of the action took place away from the ball with "aggressive" physical action intended to wear down and intimidate the Berthoud players. The Raptors also went to a full court press and double teaming and sometimes triple teaming the ball handler.
If that was the case, the strategy worked as Berthoud's margin got smaller and smaller, 52-43 at the end of period three. The Raptors were within one point with 2:40 remaining, Berthoud. The score was 66 – 64 with less than 50 seconds on the clock when Shane Hart made it 68 – 64. Silver Creek responded with another hoop put them with in two points aging. Each team had an inbound play and called timeout for a strategy session prior to the play. Neither was successful as Berthoud got the ball back with 2.4 seconds left and the coach called for a timeout. When play resumed, Shane Hart drew a foul and made both free throws, insuring Berthoud a 70 – 66 win. It was a hard fought game.
The boys will travel to Sterling on Saturday.
Game Leaders
Points:  Shane Hart                        26
Rebounds:  Joel Maly                      9
Assists: Mark Mathiesen                6
Steals:  Mark Mathiesen                 4
Blocks: Shane Hart                          1

Print This Post