There was a lot to celebrate in Berthoud on Nov. 1, and a large group in the community was present at the Lehman Printing Center to enjoy the festivities. During a time in our economy when money is tight, jobs are scarce and many are worried about the future, it is wonderful to know that those who can contribute to the community step forward and do it … with a smile.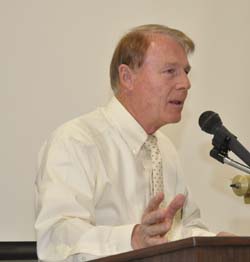 The Berthoud Community Fund Committee and the Berthoud Bequest, the local giving circle, organized under the Community Foundation of Northern Colorado presented their yearly grants to local non-profit organizations. Mayor Tom Patterson, chair of the Community Fund Committee acted as master of ceremonies and presenter of the checks and each organization had a representative who explained what the grant money would achieve.
In the coming year Berthoud will see a job search information kiosk set up at the Library, trash containers placed in the downtown area, the 24" telescope at the observatory will be restored and the Walrus and Calf in the park are much closer to being permanent residents. Berthoud kids will have a safe place for emergency care, and receive encouragement to quit smoking, stay off drugs, and be given concrete support in how to stay out of trouble and find their way to adulthood. Everyone in the community is protected in the short term by the 'Immediate Emergency fund,' can be healthier by getting active by walking or running daily (especially our kids), and our visually impaired can still get the local news from volunteer readers. There is even some money set aside for orphans to come to America from the Ukraine to appreciate our blessings – and for us to realize how blessed we are.
Other community organizations received a hand for their projects – Habitat for a foundation for a new home; the food clothing and supplies for our community's continuing need; more safehouse beds for families in crisis; and in spite of all that – for those who just need to curl up and ignore the world for a while … perhaps a warm quilt might be furnished.
While there is never enough money to satisfy all the requests, all the organizations that applied for grants this year were given at least a portion of the money they requested.
Seventeen organizations (17) received $38,500 in grants from the Berthoud Community Fund and Berthoud Bequest. All grants given will be used to benefit the Berthoud community.
The organizations are–
American Lung Association
Audio Information Network
Berthoud Arts and Humanities Alliance
Berthoud CARES
Berthoud Community Library
Berthoud Habitat for Humanity
Berthoud Main Street Program
Berthoud Run/Walk Club
Crossroads Safehouse
Food Bank for Larimer County
Foster and Adoptive Families of Larimer County
Junior Achievement
Little Thompson Science Foundation
Pay It Forward Quilts
Reflections for Youth
Ukraine Orphan Outreach
Wildfire Community Arts Center
This was all possible because the Berthoud Community fund and Berthoud Bequest, are dedicated to raising funds within the Berthoud community to be spent for the sole purpose of making Berthoud a strong, healthy and beautiful place to live. Both funds are endowed funds, meaning that they only grant money from the yearly investment income, leaving the principal intact. The community fund operates mainly from an original endowment from R.B and Helen Fickel with matching funds from the Boettcher Foundation. The Berthoud Bequest consists of members who contribute each year and have created a growing fund, now valued at over $90,000.
While certainly the generosity of many Berthoud citizens have made this a successful year it was made twice as wonderful by the Doyle and Luvesta Frances Jones fund, a Legacy fund that doubled the amount of giving for Berthoud this year. Thank-you, too, to the Berthoud leadership this year by Barbara Boyd and Tom Patterson, and Ray Caraway of the Community Foundation of Northern Colorado.
If you are interested in more information on these organizations go to www.comunityfoundationnc and look for Berthoud.

Print This Post