By Laurie Hindman
Berthoud Recorder
It's homecoming week and Spartan pride is in the air at Berthoud High School. Every day is filled with activities geared to rouse Spartan energy, leading up to Friday night's big game against the Northridge Grizzlies. Monday was college gear day — students sported their favorite school color and logos; Tuesday was preppie day and some of the students looked straight out of the 70's, with polo shirts, sweater vests, argyle socks and plaid skirts; rainy, wet Wednesday was well suited to floatation device day — kids came with life vests, swim rings, Thursday BHS is encouraged to wear black, to mourn the hoped for demise of the Grizzlies and game day, of course, is Spartan pride day and students and residents alike are asked to wear their Spartan gear and colors.
Homecoming includes a community bonfire on Thursday, from 8:30-10 p.m. on south Eight Street in the field near the BMX track. On Friday, the entire town is invited to turnout for the annual homecoming parade; the parade begins at 4:00 and will travel down Mountain Avenue. Grab a curb and cheer on the Spartan football team. Game time is 7:00 and tickets are available at the gate: $4.00 for students and senior citizens, $5.00 for adults. The homecoming King and Queen will be crowned during halftime.
Win or lose, Berthoud High will be rocking Saturday night at the homecoming dance. This year's theme is "Enchantment Under the Sea." The dance is held in the Berthoud Commons from 8:30 to midnight.
News Image: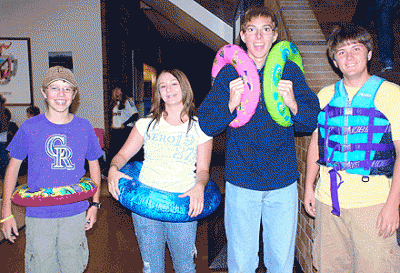 Long Description:
<p>BHS students show their school spirit on Wednesday&rsquo;s &ldquo;Flotation Device Day.&rdquo; From left, Jackson Hindman, Taylor Dean, Joe Skrobacz and J.J. Johnson.</p>

Print This Post