Three Berthoud teams of robotics whiz kids competed in the VEX Robotics World Championship at Disney World last week.
Nearly 10,000 middle school, high school and university students from 16 countries participated in the event. Round Up, the 2010-2011 VEX Robotics Competition Game, is played on a 12'x12' square field where two alliances composed of two teams each compete against one another. Each match consists of a twenty-second autonomous period where robots are controlled by onboard software, followed by two minutes of human-operated play.
The Mario Warriors, a Northern Colorado Community team that includes two Berthoud High students, won the Build Award.
The "Build" award is given to a team that has built a well crafted and constructed robot that also shows a clear dedication to safety and attention to detail. Judges looked for robots that have a professional feel and quality look to them, with clear attention to detail in construction, efficient use of mechanical and electronic components, and reliability on the competition field.
Key Criteria:
Robot construction is of professional quality; robust, clean and elegant use of build materials
Robot efficiently uses mechanical and electrical components
Robot is designed with detailed attention to the hazards and rigors of the competition
Teamwork and interview quality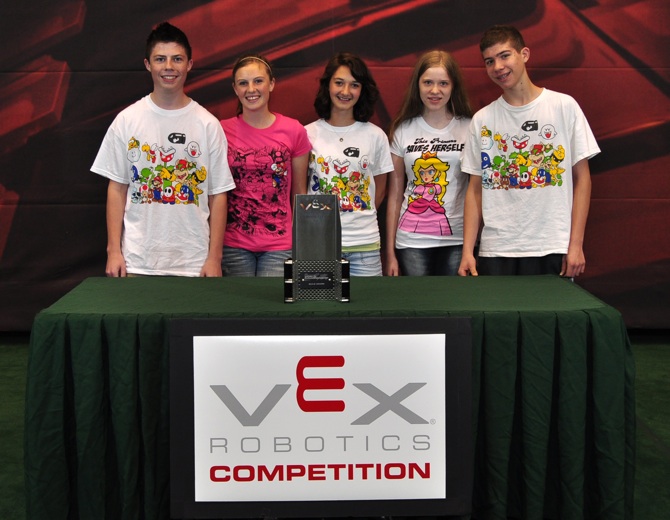 The winning team of Mario Warriors, left to right, Clay Rayment, Rachel Stewart, Savanna Inman, Linda Baker, Caleb Hammel
The Mario Warriors are joined by middle schoolers, Paul Earhart, Mark Stewart and Chase Rayment as they show off their trophy in Orlando, Photo by Liz Rayment

Print This Post