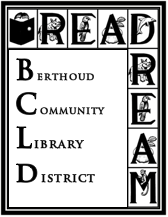 Berthoud, CO, August 20, 2012 – The Berthoud Community Library District (BCLD) is accepting applications to fill a vacancy on the Board of Trustees.  The seven-member Board governs the Library District, oversees the finances and establishes policies.  Applicants must reside within the Library District.  The term for this position is four years, January 2013 – December 2016.
Applications for the board and a description of the position are available at the Berthoud Community Library and online at www.berthoudpubliclibrary.org.  Applications should be returned to Berthoud Community Library District, 236 Welch Avenue, Berthoud, CO 80513, Attn: Sara Wright.  Please see the application for more information.  The due date for applications is September 20 or until filled.
The mission of the Berthoud Community Library District is to provide access to popular and informational books, other materials, and services that inform, educate, and culturally enrich the people of the Berthoud Community. For more information about how the Berthoud Community Library District touches lives in the community of Berthoud every day, please visit www.berthoudcommunitylibrary.org.

Print This Post