The BCLD Announces Winner to the Power of Story Art Contest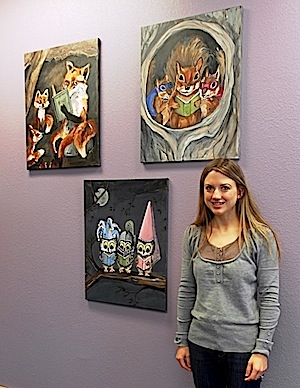 BERTHOUD—December 5, 2013. Patrons of the Berthoud Community Library District voted overwhelmingly for three acrylics painted by local artist Bethany Bailey: Fox Tales; Flying Squirrels; and Knight Owls. The paintings are destined for a wall in the children's section and out of all the artists' submissions, these three were considered the ones to best capture the contest's theme: the power of story.
"Reading is fun and ignites the imagination," said Bailey. "It gives us the power to experience different worlds…. I wanted to promote reading in an obvious, yet interesting and unique way."
One painting depicts squirrel superheroes engrossed in a story being read by their mother, and according to Bailey, reveals the transformation that comes over the reader when she or he gets lost in an alternate, literary landscape.
Bailey is an artist who paints commissioned portraits and abstracts, among other subjects. Her family moved to Berthoud five years ago, and ever since her arrival she's been a regular library visitor. "[My kids] check out books every week. I'm trying to create a life-long habit of reading." Jeffrey, Annabelle, and Charlotte make their own reading choices and the girls come weekly to story time hosted by Youth Services Librarian, Christy Headrick.
Her artwork was inspired in part by the library's recent remodel. "I just thought they did such a great job," Bailey enthused. She incorporated "the green on the walls and the dark magenta of the shelves." Starting with neutral tones, she used the library's design scheme "for some pops of color" in the paintings.
"What I love so much about [Bailey's] work—it's real art but it's accessible to kids," said Library Director Sara Wright. "The word play is just right for the age group. I thought she was very creative in incorporating a layer of language within the context of visual art."
Please join the BCLD for its Polar Express Holiday Party on December 21st from 12 – 5 pm. Fun for families will include holiday story times, movies, and crafts.