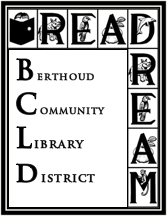 [1]
Berthoud, CO, June 23, 2011 – Want to learn how to be an extreme couponer, or at least how to find great deals to save you money?  Go to Berthoud Community Library on Thursday, July 14 at 7:00 pm for a program called, "Living on the Cheap – Thriving in the Recession."
Laura Daily & Claire Walter, co-owners of MileHighOnTheCheap.com will be sharing tips on thriving in this recession. During the free event the duo will talk about ways to save on groceries (wait until you see Laura's coupon system), dining out, shopping, travel, and attending local cultural events. They will also explain the ins-and-outs of deal-of-the-day sites, how to find free and low-cost classes and workshops, and safely join and navigate e-Clubs and other online loyalty and saving websites. In short, you'll hear how to get the most bang for your hard-earned buck. Plus, in true MHOTC style, there will be a gift card giveaway… or maybe even two.
The mission of the Berthoud Community Library District is to provide access to popular and informational books, other materials, and services that inform, educate, and culturally enrich the people of the Berthoud Community. For more information about how the Berthoud Community Library District touches lives in the community of Berthoud every day, please visit www.berthoudcommunitylibrary.org.