By Shari Phiel
Berthoud Recorder
Perhaps what people seem to remember most about Justin Bauer was his dedication and passion for serving his country and his community. Just 24 years old, the former Berthoud firefighter and 2002 graduate of Berthoud High School, died on Saturday, Jan. 10 while serving in the U.S. Army in Iraq.
Staff Sgt. Bauer was on his second tour in Iraq when an improvised explosive device or IED exploded near his vehicle in Baghdad. Bauer joined the Army in October
2004 and was assigned to the 2nd Battalion, 505th Parachute Infantry Regiment, 3rd Brigade Combat Team, 82nd Airborne Division out of Fort Bragg, N.C.
"I knew him not only as my nephew and my friend, but as a warrior. I watched him from the football field to the fire grounds to the battle ground. He was always up front, doing it all, not waiting for others," said his uncle, Kirk Bauer.
Bauer had returned home to Berthoud last fall to marry Kari Campbell, whom he met while attending Berthoud High School. While at BHS, Bauer was noted for athletic prowess on both the football and wresting teams.
"He was a fine young man. He always gave his all, he gave 100 percent in whatever he was doing," noted BHS principal Leonard Sherman.
Bauer grew up in a family dedicated to serving others. Bauer's father and uncle both served in military branches, younger brother Jeremy also enlisted and Bauer's grandfather served in the same Airborne division in North Korea.
The military is the only avenue of service for the Bauer family. Bauer's father, Greg Bauer is a former assistant fire chief with the Berthoud fire department and uncle, Kirk Bauer, is currently a lieutenant at BFPD.
So it came as no surprise to his family when Bauer decided to complete the Firefighter I course at the early age of 14, although it did come to a surprise to training officials who had never been approached by anyone so young.
Bauer passed the training and test, something individuals older and more experienced have difficulty doing. Along with passing is Firefighter I training, Bauer also completed EMT training, hazardous material certification and his wildfire certification. Bauer was looking forward to returning to his firefighting career in Berthoud when his tour was over.
He also excelled in the military, receiving the Bronze Star, the Purple Heart, the Combat Infantryman Badge and the Army Commendation Medal.
Funeral details are still being worked out, although arrangements for Bauer's body to ride on a fire truck through Berthoud are planned. Wife Kari is expected to bring his remains home from North Carolina later this week.
News Image: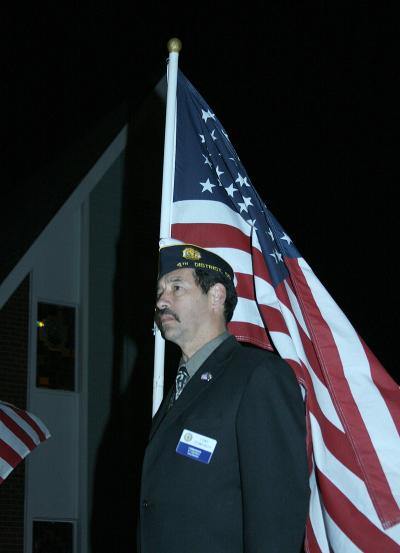 News Image:
News Image:
Long Description:
<p>In honor of Justin Bauer, Navy veteran Tony DuMosch stands vigil as part of the Patriot Guard Riders at Allnutt Funeral Home in Loveland.</p>
Long Description:
<p>.</p>
Long Description:
<p>Flags flew at half-mast eariier this week at Berthoud Fire Station One.</p>
Category Lead:
Category Lead Story
Home Lead:
Home Page Lead Story