View President Obama's speech here:
http://www.whitehouse.gov/MediaResources/PreparedSchoolRemarks/
By Jamie Folsom
Berthoud Recorder
Announcement of an address from President Obama had schools scrambling to handle parent concerns and work through the logistics of broadcasting in classrooms this week.
And Berthoud schools were divided. Both Berthoud High School and Ivy Stockwell principals Chris Garcia and Rhonda Richer left the decision to individual teachers, some of who used the speech and suggested related activity packet in their classrooms. Per state law, all parents had the choice to "opt out" their student and participate in an alternative activity.
But, Berthoud Elementary and Turner did not show the president's speech live.
Turner Middle School Principal Bill Siebers received calls from parents before hearing from the district Thursday. He met with teachers after school before making the choice to not show the speech. "The majority would like to view the speech to see if it fits in with their curriculum."
In a note sent home to parents Friday, Siebers stated, "Teachers would like to view the speech and possibly show it at another time with educational purpose and support of curriculum. If the speech is shown in class after Sept. 8th, teachers will send a letter home to parents."
TSD board member Karen Stockley said that while the board was in favor of having the speech available to all students, Superintendent Ron Cabrera could not mandate it at the district level either way. She was disappointed that not all children would have the opportunity to view the address. But, she said, "In fairness, the schools had no time."

Parents' Reaction Swift, Mixed
The U.S. Department of Education announced plans Aug. 25, and TSD spokesperson Wes Fothergill called the reaction from parents baffling, considering that other presidents had also given speeches to schools, citing President George H.W. Bush's 1991 live televised address to the schools on a similar topic.
Fothergill also thought the short notice was a factor, "Ideally, we would have had more lead time and had better information for parents."
Area parents flooded schools with phone calls and visits, expressing a wide range of concerns from fears the president's message would promote "socialism," to parents outraged that students would not be allowed to view the address.
Brenda Peacock is a mother of two students, one at Turner and one at BE. She was surprised the president's speech would not be shown at all in either school. "I think it's ridiculous that they're not going to show it. I think that it's an important topic, and people can make up their own minds about how they want to do it."
Peacock was one of several parents who took a child out of class Tuesday, so they could watch it together. "I would want them to listen to it no matter who the president was," adding that it is similar to watching the space shuttle launch or other things that provide enrichment.
"I think the district does a wonderful job, so this surprised me," she said. But, "the choice the district made has made it a political thing more than if they had just let them watch it."
Peacock was also surprised at the vehement reaction against a message she says all kids need to hear – to "encourage kids to focus on school."
She added, "The naysayers are making a bigger issue of it than if they had allowed free speech in the first place."
---
Parents Provide Homey Atmosphere for Obama's Speech
It's Tuesday morning and a dozen kids lounge around the living room of Berthoud parent Laurie Hindman. They're eating doughnuts and fruit and waiting for the president's address on TV.
"It's thrilling, and it's an honor to have the president to take the time to speak to you," explains Patrice Lier, whose son Severin, a seventh-grader at Turner Middle School, was excited to see the speech live, especially among friends.
"This is just not an option for us," Lier notes. "Severin is so engaged in the idea that he wouldn't miss it."
There were giggles at the president's mention of washing hands and surprised faces when he explained that NBA super star Michael Jordan had been cut from his high school basketball team. The message was clearly that persistence pays off. But how was the message received?
"He gave us the big picture and how other people have it harder," Severin remarked. "So we really don't have an excuse."
"He talked to you like a parent," observed TMS student Nate Ryken, 14. "He was setting down what he expects of you … he reminds me of my dad."
After a brief reflection on the president's speech by parent Gina Archuleta, the kids packed up and returned to school.
"When you get back to school, make it positive for the others," advised Archuleta. "And parents who didn't let them watch it –– that's OK, too."
News Image: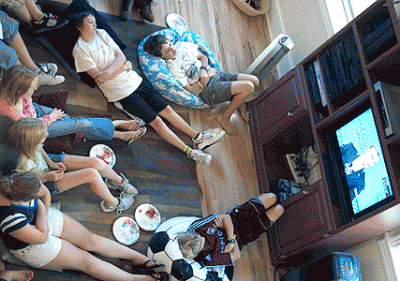 Long Description:
<p>Fourteen Berthoud students watch President Obama&rsquo;s back-to-school address at the home of Laurie Hindman. Hindman and several other parents brought their children home to watch the live broadcast because it was not being shown at their children&rsquo;s schools. Both Turner Middle School and Berthoud Elementary chose not to show the national speech, the first such address since 1991, when President George H.W. Bush spoke to students across America.<span style="font-family: arial,helvetica,sans-serif;"><br /></span></p>
Category Lead:
Category Secondary Featured Story
Home Lead:
Home Page Primary Featured Story

Print This Post