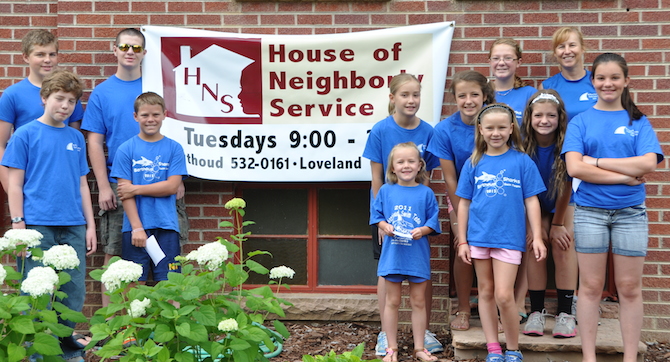 Swim Team makes a big splash in the 2014 Swim-A-Thon fundraiser for HNS
By Krista Markell
Photo by Jill Strait
On a beautiful Wednesday morning in June, the Berthoud Recreation Sharks Swim Team held their 5th Annual Swim-A-Thon fundraiser. Sixty-seven of the swim team members swam lengths continuously to raise money for the event. Older swimmers swam for 30 minutes and younger swimmers for 20 minutes. The results of all their efforts were impressive! Pool lengths swam totaled 3,003, which is over 42 miles.
Swimmers collected pledges based on their swimming lengths as well as food donations which were all delivered to the Berthoud Chapter of the House of Neighborly Service. The Swim-A-Thon provides an opportunity for swimmers ages 5-18 to positively impact their community. Monetary donations reached over $1,500 and were the highest ever collected in the 5 years of the Swim-A-Thon. Over 114 pounds of food products were also collected and donated.
The House of Neighborly Service assists individuals and families in the Berthoud area. With the swim team's donation, they are able to provide families with recreation scholarships with the Berthoud Park and Recreation. Families that are interested in receiving a recreation sports scholarship for their children can contact the House Of Neighborly Service located at 531 8th Street in Berthoud (532-0161) on Tuesdays 10am-2pm.

Print This Post