Ninth Street and Lake Avenue, Berthoud
October 8, 9 a.m. to 2 p.m.
Lunch from 11 a.m. to 1 p.m.
One of Berthoud most anticipated events is coming this weekend. The United Methodist Women's Craft and Food Fair is in its 36th year and is offering a new look with new vendors. The fair takes place in the church fellowship hall with lunch available from 11 a.m. to 1 a.m.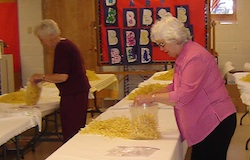 The fair is famous for its noodles and angle food cakes as well as the craft vendors. The church volunteers under the watchful eye of Priscilla Lebsack have been making noodles for the past four weekends. The noodles sell for $5 per half-pound bag and the angel food, , cakes, chocolate and vanilla,  are $9 each. Even though the volunteers have bagged over 150 pounds of noodles, the supply probably won't last long. If history is any indication, only the early shoppers will get their noodles and cakes.
The list of vendors for this year includes many new faces. This is a juried show with 16 vendors chosen to participate. There will be no duplication of items. This promises to be an exciting event.
The list of vendors:
Nancy Dyke of Golden: Small fabric over the shoulder purses.
Dixie Desen of Loveland: Crocheted doilies and runners.
Sara Strufing & Cathlin Matson of Broofield: Quartz to emeralds gemstone jewelery.
Devyn Brewer of Loveland: Raku glazed and fired hand-thrown ceramic vases, bowls and sculpture.
Mary Ellen Dionysius of Firestone: "Grandma's Love Wraps," swaddling blankets, crocheted Christening dresses and more baby items.
Joanne Bickerton of Lafayette: Items of fabric: aprons, pillows, scarves, shopping bags plus hanging toys.
Pat Smith of Frederick: Hand made greeting cards and crafted paper items.
Betty Porter of Longmont: Plastic canvas craft, crocheted potholders and book covers, kitchen towels.
Yarn Group, UMC women of Berthoud: Caps, mittens, shopping bags, dishcloths, etc.
Stained Glass by Lana: A variety of stained glass, many holiday items.
Mary Bowling of Fort Collins: Fall and Christmas arrangements, decorated bears.
Linda Sullivan of Loveland: Hand crafted soap and bath products.
Heirloom Baskets of Loveland: Kay Neckel showing hand made baskets and quilts.
Donald Oatney of Loveland: Items hand crafted from wood.
Diane Ramsey of Loveland: Art (water colors, ink, oil, graphite and more) calligraphy, note cards and bracelets.
Cleo and Roth Mathis: Hand crafted bead jewelry.
This year's lunch menu is pulled-pork sandwiches, salad dessert and a beverage. The cost is $6 for adults, children 3-12 are $3 and children under the age of 3 get to eat free.

Print This Post