By Laurie Hindman
Berthoud Recorder
Looking gorgeous enough to have attended one of Obama's balls, 23 Berthoud High School students strolled down a lighted, T-shaped runway, and gave a professional model twirl to the flashing of cameras. The BHS student leadership class held the fashion show last Wednesday, Jan. 28, as a fundraiser for the House of Neighborly Service. Capitalizing on interest in the upcoming Winter Formal on Feb. 7, the show was attended by over 175 people and raised about $400 for House of Neighborly Service.
"It was a huge success," said Maya Lindgren, a BHS junior who helped coordinate the event. "We had never done anything like this before. We were glad to help the community."
Male students dressed in tuxedos escorted female models to the runway. David's Bridal, DEB of Longmont and Swept Away Bridal of Loveland loaned the dresses. Berthoud salons, The Look Hair Design and Changes Salon styled the girls' hair for the show. In between shows, entertainment was provided by BHS male a cappella group Priority 5 and the standup comedy talents of Ben Fell and Max Kleber. Anna Krajek and Austin Puckett, who took turns describing the gowns, emceed the evening.
News Image: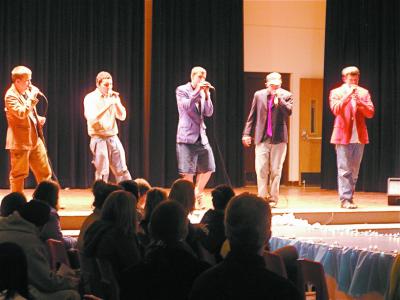 Long Description:
<p><span style="font-size: small;"><span style="font-family: times new roman,times;">Priority 5, a BHS men&rsquo;s a cappella group, provided some of the entertainment at the fashion show on Wednesday evening, Jan. 28.</span></span></p>
Category Lead:
Category Primary Featured Story
Home Lead:
Home Page Secondary Featured Story

Print This Post