BHS senior Spencer Sterck enlisted in the U.S. Navy in the construction division and will be heading to boot camp upon graduation this spring.
By Laurie Hindman
Berthoud Recorder
Most high school seniors have a full plate and seventeen-year old Spencer Sterck is no exception. However, in addition to the normal senior workload, Sterck is finishing his Eagle Scout project for Boy Scouts and attending a fitness training camp for the U.S. Navy.
The mission of the U.S. Navy is to "maintain, train and equip combat-ready Naval forces capable of winning wars, deterring aggression and maintaining freedom of the seas." These are powerful goals — perhaps intimidating to some — but to Berthoud High School senior, Spencer Sterck, those words are a calling.
"I stopped by a Navy [recruitment] booth during lunch one day," recalled Sterck. "They asked me, 'what are your plans, what will you do after high school?' It really made me think." Sterck began to receive recruitment calls, but he was not ready to commit. "I did my research. At one point I considered the Air Force, but they didn't sell it to me. My Dad was in the Navy and that probably influenced me some, but I felt drawn to the Navy the first time I talked to them."
According to Sterck, the recruiters have been very honest. "They tell you the good and the bad. Nothing was hidden from me." He has already begun attending physical fitness training on Thursday nights. "It will help so boot camp won't be such a shock," said Sterck with a laugh. Sterck said his motivation to enlist was to serve his country. "I want to do something positive," he said.
Sterck will be attached to the "Seabees" unit in the construction battalion repairing and operating heavy equipment; he could end up assisting in international disasters, like the rebuilding efforts after the Indian Ocean tsunami hit four years ago, or could even see combat zones in Iraq or Afghanistan.
It is obvious that Sterck's father, Bill Sterck, is very proud of his son. "Beth and I wanted him to go to college, but more than anything we wanted him to have a direction. We are very happy for him."
Beth Sterck, Spencer's Mom, said at first she was concerned about him enlisting. "I was very nervous, but the process was really good. The recruiters sat down with us as a family several times to make sure all our questions were answered. I felt they were very honest with us."
After graduation, Sterck will head to a nine-week boot camp in the Great Lakes area of Michigan before receiving his first assignment. "We are truly very proud of him," said his mom. "Right now I just want to cherish his last year in high school and enjoy having him around."
News Image: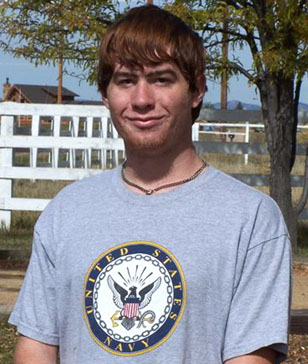 Category Lead:
Category Primary Featured Story
Home Lead:
Home Page Lead Story

Print This Post