Great-West Life Bike MS, Colorado's Ride 2009Berthoud Rest Stops
Saturday, June 27, 9 a.m. to 2 p.m.
Berthoud Family Church, 3982 Nations Way
Sunday, June 28, 8 a.m. to 12:15 p.m.
Adams Bank and Trust, 1201 Lake Ave.
Traffic Alert
The ride will take cyclists along County Road 23 up to County Road 12 on Saturday and along Taft Avenue, State Highway 56 and County Road 21 on Sunday.
---
With more than 3,000 cyclists geared up, the 24th annual multiple sclerosis fundraising bike ride — the Great-West Life Bike MS, Colorado's Ride 2009 — has sold out for the second year in a row. The ride runs from Front Range Community College in Westminster to Colorado State University in Fort Collins and back on June 27-28, along a 150-mile route, which will include stops in Berthoud both Saturday and Sunday.
The ride is the major fundraising event for the Colorado Chapter of the National MS Society each year, and the need for funding is clear. Carrie Nolan, president of the Chapter explained, "We have experienced a 300 percent increase in demand for services and support due to the current economic conditions." But, she adds, "The economic climate may change, but our mission doesn't."
Because the ride is at capacity, organizers have now created a way for community members to become "virtual participants" by signing up online. They hope to extend their message further and meet their growing need for research and support funding. Last year the ride raised $2.9 million. This year's goal is $3.2 million.
Colorado has one of the highest rates of MS in the nation, with more than 9,000 Coloradans living with this disease, and Nolan notes available treatments look very hopeful. "There were no treatments for MS until 1993. Now there are six FDA-approved treatments available with breakthroughs on the horizon," she said.
To register to be a Virtual Participant or to volunteer in the Great-West Life Bike MS, Colorado's Ride 2009, visit www.BikeMSColorado.org.
Category:
News – Community
News Image: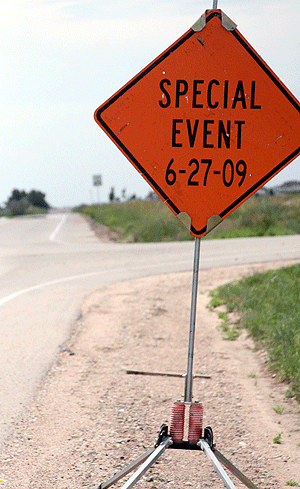 News Image: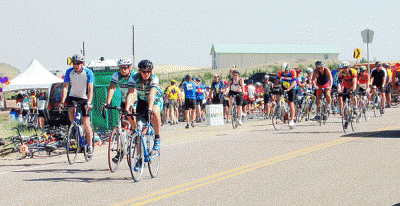 Long Description:
<p>More than 3,000 riders passed through Berthoud in last year&rsquo;s MS Bike event, a main fundraiser to fight multiple sclerosis.</p>
Category Lead:
Category Secondary Featured Story
Home Lead:
Home Page Lead Story

Print This Post