By Laurie Hindman
Berthoud Recorder
For most people pets are like members of the family and dropping them off at a kennel can be a bit heart wrenching. At the Bow-Wow Meow Fairy Tail Villa, boarded pets are treated to all comforts of home. Jessi Wolf, who owns and operates Bow-Wow Meow, has been grooming dogs for the last nine years, but since August 2008 also offers boarding in the charming cottage on First Street. Wolf grooms cats (one day each month — no dogs allowed), ferrets and guinea pigs.
Wolf said they provide a new concept in kenneling where dogs are boarded in a home-like atmosphere. "It always left a bad taste in our mouths when we had to board our own dogs. The kennels always seemed so cold, and our dogs were always so anxious."
At the Fairy Tail Villa large rooms have been divided into open kennels, called "chateaus." Families with multiple dogs can have them room together or next door to one another. The deluxe chateau comes with a couch where your special pooch can lounge comfortably, while watching an episode of "Dog Whisperer" or something from Animal Planet on the large TV in the entertainment center. The rooms are clean and bright, with dog friendly plants, warm lighting and even a fish tank. An air purifier runs at night, creating a soothing white noise to reduce the dog's anxiety from strange noises and sleeping away from home.
Boarded dogs are let outside every three hours and when inside, they are free to roam about the house, rest at Jessi's feet while she grooms, or return to their kennel (or couch, as the case may be). Wolf said her whole family is part of the experience. "After school my kids go watch TV with the dogs. I will go in and the girls will have three or four dogs on their laps. They love it."
Bow-Wow Meow Fairy Tail Villa only houses eight families at a time so each dog receives a lot of individualized attention. "We offer specialized care and try to meet the needs of each dog. We have a full kitchen for food preparation so we can prepare the food they way the owner would like."
Wolf said that they are able to care for older dogs too. "Our front yard is where the smaller or older, less able dogs go to play." The back yard is a full acre-and-a-half of grass, and that's where the bigger, rowdier dogs go to run."
The Wolfs are with the dogs until late in the evening and after the dogs are let out for the last time, they retire to a neighboring subdivision. The "villa" is guarded at night by an ADT security system. Wolf is back to feed and exercise her four-footed wards at the crack of dawn. "We try to cater to every dog to make them feel like they are at home," Wolf said.
Bow-Wow Meow Fairy Tail Villa is located at 816 First Street and can be reached at (970) 532-3961.
Category:
News – Business
News Image: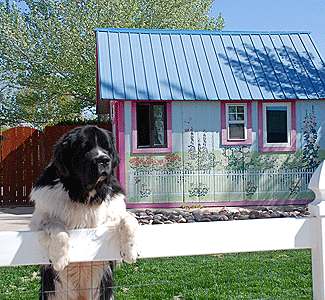 Long Description:
<p>Jessi Wolf&rsquo;s Newfoundland, Wonka, peers over the fence of Bow-wow Meow Fairy Tale Villa.</p>
Category Lead:
Category Secondary Featured Story

Print This Post