By Sandy Barnes
Berthoud Recorder
With its flagship Dale's Pale Ale at the helm of its locally crafted offerings, Oskar Blues Brewery is chugging along with a 64 percent growth in production reported in 2008. A new 35,000 square foot brewery in Longmont that opened last April boosted the capacity of the microbrewery started in Lyons back in 1997.
Since 2002, owner Dale Katechis' unique brews ranging from ale to imperial stout have had the distinction of being the first crafted beers sold in cans. The advantages of canned beers are many, both for brewers and consumers, said Marty Jones, the self-designated "lead singer" for the products.
Cans preserve the quality of beer better than glass, keeping the brew in airtight containers that don't admit light, as glass bottles do, Jones explains. Aluminum cans are also much lighter and compact to ship than glass, creating savings in transportation. "We also get a lot more beer on each load," said Jones.
Oskar Blues' beers are distributed in 23 states from California to New York, with many Midwestern and Southeastern states in between. A light pilsner named Mama's Little Yella Pils is the latest offering from Oskar Blues. Reminiscent of the Czechoslovakian town from which it originated, the brew has a 5.3 percent alcohol content and light quality. Those who like stronger brews can choose from Oskar Blues' Old Chub, a Scottish stout, Gordon, a strong ale, and Ten FIDY stout.
A thriving industry statewide and nationally, direct and indirect contributions to the Colorado economy totaled approximately $13.76 billion in 2008, according to an economic impact study done by John Dunham and Associates of New York for the National Beer Wholesalers Association. Colorado breweries employed 20,647 people last year and paid nearly $1.02 billion in wages, the report stated.
Another side of the beer industry is crop production by Colorado farmers like Bill Markham and his son Brett who grew barley on their farms in Berthoud. Like many other barley growers in the state, Markham sells his crop to Molson Coors based in Golden.
Although most of the ingredients that go into Oskar Blues beers are imported from outside Colorado and the country, Jones said Oskar Blues is planning to find local sources from which to buy barley. The company is also planning to grow some of its ingredients. "We're going to plant five acres of hops," said Jones.
For Oskar Blues, crafting beer is only part of the story — although a large one for which the company has gained national recognition in the news media. Oskar Blues Grill and Pub in Lyons is a hopping place, especially on weekends. Offering a variety of foods and, of course beers, the pub is a popular place for locals and visitors to hear a variety of music from blues to bluegrass, rock and country on occasion.
Oskar Blues Cajun Grill and Brewery is at 303 Main Street in Lyons. For more information, visit their Web site at www.OskarBlues.com
To view a copy of the full Dunham report on Colorado's beer industry, visit online www.BeerServesAmerica.org/default.aspx?sub=sub&state=CO.
Category:
News – Business
News Image:
News Image: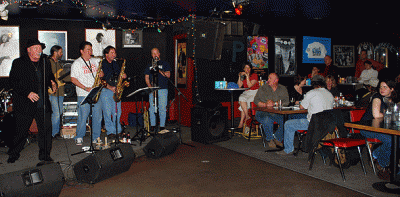 News Image: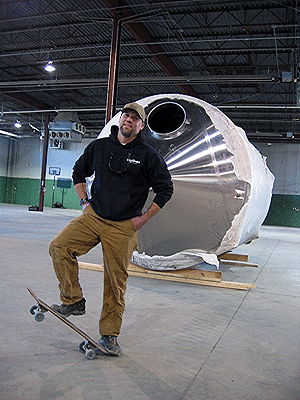 Long Description:
<p>Dale&rsquo;s Pale Ale is the flagship crafted beer produced at both Oskar Blues breweries in Lyons and Longmont.</p>
Long Description:
<p>Singer Paul Soderman performs with Blueze Hause at Oskar Blues on Saturday night, April 11.</p>
Long Description:
<p>Oskar Blues brewery owner Dale Katechis at the Longmont space where the main brewery is now operating.</p>
Category Lead:
Category Lead Story

Print This Post