By Michael Hicks
Berthoud Recorder
Sierra Messick has never played competitive soccer. Most of her playing experience has been at school and recreationally. But one of the reasons the 11-year-old Berthoud resident chose to take part in this week's British Soccer Camp at Bein Park was because she wants to get better at playing the game.
"My sister did [the camp] last year and it was really fun so I wanted to try it out," Messick said.
Challenger Sports, which hosts the British Soccer Camps, plans to run 2,000 camps this summer in all 50 states. More than 100,000 children nationwide will take part in the camp, which also runs in Canada and Australia. This week it's in Berthoud.
Messick was one of approximately 30 participants at Monday afternoon's session designed for players ages 10 and up. Earlier in the day, the camp, which first started in 1985, had a three-hour session for 6 to 9 year olds. In between, 4 and 5 year olds were coached for an hour and half and from 11 a.m. until noon there was a session for 3-year-olds.
"It's challenging, but it's the most rewarding coaching you do," said Philip King, this week's camp director, about running the 3-year-old camp. "Parents stay around to see how much fun you are having with their children. We play a lot of games where we don't use a soccer ball to begin with. For example, we start out running around to have fun then we incorporate the soccer ball. In that age group it's more about having fun that doing some hardcore coaching."
King moved to the Broomfield area nine months ago after his first stint as camp director last summer. This week, he is joined by Sam Lee, Rhys Crabtree and Andy Ord, all fellow soccer camp coaches who flew overseas last month just for these camps. They are just three of the 800 coaches that Challenger Sports will employ for the summer camps.
Those coaches come with an agenda — to focus on having fun, to focus on the coaching side of soccer and to get the participants to play soccer the Challenger way. With that comes teaching all of the players five attributes to the game — respect, responsibility, integrity, leadership and sportsmanship.
They also want to see those players improve from the start of the camp until the end, said King.
On Monday you'll see that they are playing a particular way. They might have picked up some bad habits through soccer and we obviously coach and train soccer," King said. "So come Thursday and Friday we see a difference from Monday and actually say to the kids and parents what a difference it's been in just a few days. But to see that difference from Monday to the end of the week is probably the most rewarding part."
Fourteen-year-old Jared Berk is using the camp as a way to improve his game. That's his plan, at least.
"I'm going to play for Thompson Valley this year," said the Loveland resident. "I hope that I can get a lot better than what I was so I can beat some of the seniors out [on the] varsity [team]."
Those seniors don't know that yet, according to Messick, but if things go well this week he hopes to make good on that goal in the next month. And it would be all because of one week at the British Soccer Camp.
News Image: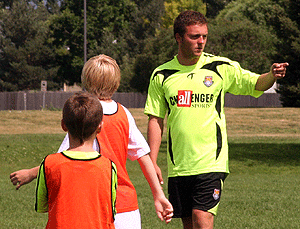 News Image: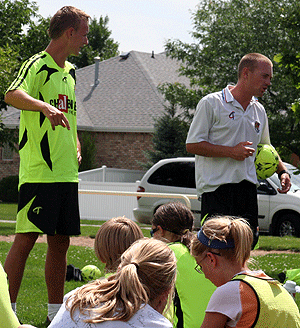 Long Description:
<p>Challenger Sports, which hosts the British Soccer Camps, plans to run 2,000 camps this summer in all 50 states.</p>
Long Description:
<p>As instructor Sam Lee listens, camp director Philip King talks to the approximately 30 participants who were at Monday afternoon's session at Bein Park.</p>
Category Lead:
Category Lead Story

Print This Post