By Laurie Hindman
Berthoud Recorder
Abbott Glass on Mountain Avenue is a Berthoud landmark not only because of the striking angular green "Solex" glass building front, but because of the hundreds of purple, white, red, yellow and gold irises that carpet the parking area and back lawn. Owner and operator Keith Davis said they were planted by his mother, and anyone who has lived here a while will remember the annual iris dig and sale that took place each fall.
Davis bought the business from his parents, Keith Davis Sr. and his wife Fran, in 2005, but Abbott Glass has been in business since 1992. Davis has been a glazier for over 25 years and is also a competent carpenter. His wife, Amber, is the office manager, but can also cut glass and repair screens. "I do a little bit of everything," laughed Amber.
Because the business is small, Davis says their reputation and quality of work is everything. "We service commercial and residential clients from Broomfield and Thornton all the way to Cheyenne, Wyoming. Our clientele is all word-of mouth because we provide exceptional lead-time and excellent customer service."
Davis said their client list includes Carl's Jr., KFC, Cracker Barrel and the Super 8 Hotel in Longmont, but that they perform plenty of local service calls for Berthoud families. He explained they not only install new glass, mirrors, shower doors, storm doors and do a wide variety of custom glass and screen work, they are the "Johnny-on-the-spot" for the Berthoud Fire Department and local residents who have emergency repairs.
"I am on call 24-hours-a-day for the fire department," said Davis. "If they have to do a break-in because someone can't get to the door, they can't leave the home unsecured. We go out and do board ups." Davis said he also does emergency board ups or repairs for broken windows and bent doors.
Davis said that while the downturn in the economy has hurt the elective, aesthetic work, necessity work, such as window and door repair or replacement has remained steady. "Our success is due to our personable, reliable service," said Amber Davis. "We value our customers and it shows."
This spring, Abbott Glass began offering a 10 percent discount for senior citizens and service men and women in the military and police and fire departments. Abbott Glass is located at 128 Mountain Ave., and may be contacted at (970) 532-2622.
Category:
News – Business
News Image: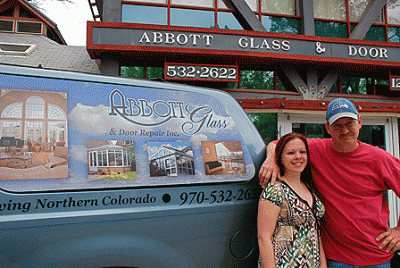 Long Description:
<p>Amber and Keith Davis own and operate Abbott Glass.</p>
Category Lead:
Category Lead Story

Print This Post