By Laurie Hindman
Berthoud Recorder
Dr. Ken Klingman has been treating Berthoud area pets in his friendly office on 10th street for more than a decade. Klingman blends his passion for biochemistry and medicine and his love of animals to provide quality care for cats and dogs.
Originally pursuing his fascination with biological science by earning a bachelor's in chemistry in San José, Calif., Klingman worked as a chemist in the pharmaceutical industry. Wanting to get more into the field of medicine, and having a lifelong affinity for animals, Klingman ultimately went back to school at Colorado State University earning his Doctor of Veterinary Medicine degree in 1995.
Klingman, who resides in Longmont with his wife, step-children and two dogs and a cat said he was doing emergency animal care work for a couple of years and wanted a clinic of his own. "At the time we opened I was living just west of town, near Foothill Estates," said Klingman. "Berthoud is a nice community tucked in between Longmont and Loveland. It seemed the ideal location."
Berthoud Animal Village Clinic provides all the usual care of regular shots and checkups, as well as routine surgeries including spaying or neutering, and tumor removal, but stresses importance the day-to day care of furry family members.
"We tend to be fairly preventative in our approach. The more you do early on the more you can eliminate or postpone serious health problems down the road," explained Klingman. "Our goal is to retain the animal's quality of life as long as possible."
According to Klingman, preventative care includes diet and nutrition, an exercise plan, blood work and testing for geriatric animals, and heartworm testing. "I didn't think I would see heartworm in Berthoud, but that hasn't been the case," said Klingman. "It is very preventable."
The Berthoud Village Animal Clinic is open Monday through Friday, 8 a.m. to 5 p.m. and is located on 10th Street, at the south end of the Hays Market shopping center parking lot. They can be reached at (970) 532-5400.
Category:
News – Business
News Image: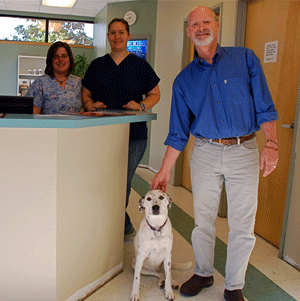 Long Description:
<p>Veterinary technicians Allison Howard and Jayme Moss with Doctor Ken Klingman and one of his dogs, Lucy, at the Berthoud Village Animal Clinic.</p>

Print This Post