By Laurie Hindman
Berthoud Recorder
For two guys who started out hand-cutting metal with blowtorches in a garage, they aren't doing too shabby. Cameron Mattie and Terry Dettman, owners and managers of C&T Custom Fabrication, now operate in an 11,000 square-foot warehouse with state-of-the-art equipment. The company was number one on the "Northern Colorado Business Report's" annual list of the top 100 companies for revenue growth. C&T increased their three-year revenue by an incredible 276% and has 13 full-time employees. They serve residential and commercial clients from Denver to Fort Collins and have been as far west as Vail.
To what do they attribute this success? "We keep our customers happy," said Mattie firmly. "We make customer service our top priority."
"We get a lot of repeat customers," added Dettman. "And a lot of business that comes from word of mouth from former clients that liked our work."
C&T offers custom steel manufacturing for commercial and residential clients, including steel railings, fences, gates, custom stairs including spiral and helix, decorative metals, sheet metals, etc. They provide CAD drawings, and construction and installation. "Basically we can do anything that involves steel," said Terry.
"The good thing about us is that our work runs the gamut. We are very versatile in what we can produce," said Mattie. Combined, the two owners have over fifty years of experience in steel manufacturing.
Another factor in their success, Mattie explained, is that because they own all of their equipment they can keep their prices very competitive. "Many big steel cutting operations have debt which they then pass on to their customers. We don't have to do that." He added that many businesses outsource their fancy cutting. "We do everything in-house."
In the enormous warehouse, workers wearing protective helmets and clothing cut steel with torches, while the machinery hums away. Dettman and Mattie pointed out the water jet cutting machine, a piece of equipment that is the size of an average living room. "We can cut just about anything with this," said Terry holding up a steel emblem shaped somewhat like a fleur de lis. "You see something in a magazine you like and bring it in, we can cut it," he added.
C&T Custom Fabrication is located in the outer-most northeast edge of Berthoud in the Gateway Industrial Center on Longs Peak Avenue, near I-25. They can be reached at (970) 532-2444 or at their Web site at www.ctcustomfab.com.
Category:
News – Business
News Image: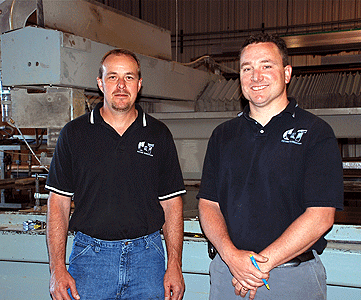 Long Description:
<p><span style="font-size: small;"><span style="font-family: arial,helvetica,sans-serif;">C&amp;T Custom Fabrication owners Terry Dettman and Cameron Mattie in their Berthoud warehouse. C&amp;T was ranked as the No. 1-fastest-growing company on the Northern Colorado Business Report&rsquo;s Mercury 100 list. This is the third year the Berthoud company has made the list. In the past three years C&amp;T&rsquo;s revenue has grown 276 percent.<br /> </span></span></p>
Category Lead:
Category Primary Featured Story

Print This Post