By Laurie Hindman
Berthoud Recorder
Ken Bodtker, better known to longtime Berthoud residents as "Mr. B," has been removing rust, banging out dents and re-painting cars for over four decades. Bodtker operates out of a small, ordinary looking shop on the corner of Second Street and Mountain Avenue. Despite its low-key, outward appearance — Bodtker has no need to advertise — he easily rattles off names of old-timers and notable Berthoud families whose cars he's worked on for generations.
"I've worked on "Doc" Fickel's cars, Mayor Patterson — me and Tommy are old friends — the old police chief, Bill Wegner, Reverend Scott, former mayor Dick Strachan, the Bebos, Starks, Dean from Dean's Furniture, the Berthoud banks, Hays Market folks…I've had a lot of good customers over the years and all my business is word of mouth."
"Good old Mr. B's has been around a long time," said Mayor Tom Patterson. "Over the years he has done probably five or six jobs for me and my family, including the paint restoration on my '65 Mustang." Patterson said Bodtker is not only skilled at what he does but has a "big heart."
"He used to take disenfranchised students of mine and put them to work," said Patterson, a former Berthoud High School English teacher. "He was really patient with them and allowed them to take pride in what they did."
Mr. B's customers come from all over the Front Range, but Bodtker has always relied on the local farming community for much of his business — and camaraderie. "Farmers come over for one thing or another and sit at the counter and have a cup of coffee," said Bodtker. "Not as much anymore. Many of them are gone. Used to be we'd have lunch on the BBQ."
Bodtker got his start in the body and fender business in Pierre, S.D., in 1961. He has been on the Berthoud corner since 1989 and prior to that was located where Dean's Furniture is today. The shop is packed with cars — inside and out — in various stages of repair or restoration; In addition to repairing cars after "fender benders" and doing insurance estimates, Bodtker refurbishes classic, older cars to their former state of beauty. This year's Berthoud Day parade had several examples of his finished work, including a gleaming 1956 Bel Air and a sleek 1960 Impala.
Mr. B's is open six days out of seven and when he isn't restoring dented or rusted cars, Bodtker is fishing. "That's my pastime, but I don't get to do it as much as I'd like to." Despite coming up on a half a century of auto bodywork, he has no plans to retire any time soon. "I am staying in there for now," said Bodtker. "What else would I do? I've worked all my life."
Mr. B's Body and Fender shop is located at 154 Mountain Ave. and is open Monday through Friday 8 a.m. to 5 p.m. and Saturdays from 8 a.m. to 1 p.m. They can be reached at (970) 532-2141.
Category:
News – Business
News Image: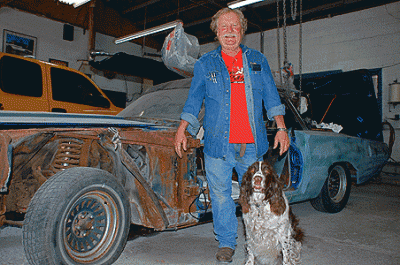 Long Description:
<p><span style="font-size: small;"><span style="font-family: arial,helvetica,sans-serif;">Ken Bodtker, accompanied by beloved shop dog &ldquo;Taffy,&rdquo; is owner of Mr. B&rsquo;s Body and Fender. He stands before a work in progress: a 1964 Ford Thunderbird convertible. Bodtker does body repair work, insurance estimates and classic car restoration.</span></span></p>
Category Lead:
Category Primary Featured Story

Print This Post