Civic Group Presents Agenda at 1st Meeting
By Sandy Barnes
Berthoud Recorder
More than 50 residents came to the first meeting of Citizens First, held at the Berthoud Library Tuesday, Sept. 29. Leaders of the civic association presented a list of key items, including water quality, the upcoming vote on an Aims Community College tax district and an Xcel Energy franchise agreement under consideration.
While speaking to those gathered in the packed meeting room, organizer Dorian Ryan said the group was started to get more residents involved in Town government. "We need hundreds of people," she said. The motto of the Berthoud Town Forum from which Citizens First evolved is, "We go to meetings so you don't have to," said Ryan. Since its founding, Ryan and other members keeping their eyes on Town government have come to realize that more voices are needed to be effective.
"Our dream is…to try to help our Town be a better place; to make Berthoud the best possible place to live," said Jen Rotar of Citizens First.
While presenting nine areas of interest identified by Citizens First, Mark O'Leary said the group is trying is decide which ones warrant the greatest effort. O'Leary also encouraged input from residents.
"The Town belongs to all of us," he said. At the top of the list was "clean, good tasting and affordable water." When O'Leary asked those at the meeting to raise their hands if they were happy with the quality of the Town water, there was no response.
During discussion of the Town entering into a franchise agreement with Xcel Energy, which could add 3 percent to resident's bills, O'Leary said that Citizens First advocates bring the issue to a vote. When asked, no residents at the meeting expressed support for the franchise.
However, Trustee Jeff Hindman, who was present at the meeting with other Town officials, said he was in favor of the franchise. One percent of the revenues from it would go toward undergrounding Town utility lines, he said.

"In other cities, citizens are involved in how to go green" remarked Ryan. Citizens First supports alternative clean energy and opposes a franchise fee for residents.
Another revenue issue that Berthoud residents will vote on in November is the Aims Community College district question. If passed, the college would collect a mill levy for Berthoud residents brought into its jurisdiction. Before the election, Citizens First leaders are planning to provide a forum for this issue to help residents make informed decisions about it.
Other areas of interest discussed at the meeting were economic development that pays for itself, retention of Town employees, publishing information about Town Board meetings, bids for Town contracts, healthy trees and support of charitable causes.
At the beginning of the meeting, representatives of Town advisory boards spoke about their roles in government. Ryan noted that the Utility Advisory Board is "very tasked" at the moment because of its focus on water quality issues and the Xcel franchise agreement.
"A lot of people are not happy with government," said resident Judy Lehn, while speaking on behalf of the new citizens group. Lehn said by keeping open records and posting information about its meetings, the Town could help its residents be better informed. She also said that advisory board memberships should be consistent in terms of numbers, and that board members should recuse themselves when there was a matter that could be a conflict of interest under consideration.
News Image: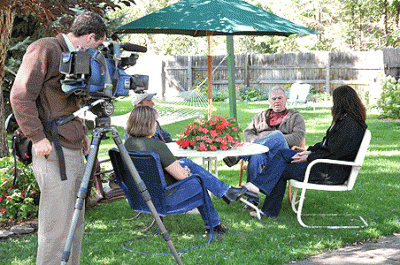 Long Description:
<p>KUSA-TV reporter Adam Chodak records as Jen Rotar, David Mineo, Patrick Macarelli and Dorian Ryan discuss town water issues and the Citizens First Committee. The segment aired on Tuesday, Sept. 29.</p>
Category Lead:
Category Secondary Featured Story

Print This Post