By Jamie Folsom
Berthoud Recorder
Berthoud Area Chamber of Commerce Executive Director Don Dana has a messy desk and an office that is piled high with information and possibilities. There are new things on the horizon, and Dana is excited about upcoming events.

After severe weather shut out the March chamber luncheon, Maury Dobbie from the Northern Colorado Economic Development Corporation (NCEDC) has been rescheduled to speak at April's luncheon on the 23rd. The event sponsor will be Sun Pony & Happy Tails Dog Ranch with catering provided by Grandpa's Café.
Dana notes that regular events such as the luncheon and Business After Hours are perfect opportunities for B2B, or business-to-business, exposure and exchanging referrals, which are some of the most effective ways to grow a business. But, more than that, it gives existing members and prospective members the chance to interact with others in the greater northern Colorado region. "Our job is to enhance the economic well-being of the Berthoud area… and we have to think of ourselves as a region," Dana said.

The "Pay It Forward" program that will soon be under way will give businesses a chance to refer customers to other Berthoud Chamber businesses. Customers will receive discounts, and merchants will build on the networking power of referrals.

Another event that many are looking forward to is the Mountain Avenue Dedication Ceremony scheduled for May 2. After a very difficult year of bypass and construction, the ceremony will be a much-needed psychological boost for all of Berthoud.

A new and unique event also coming up in May is the Realities Ride and Rally, Sunday, May 24 from 11 a.m. on. For the first time in the eight years of the ride, Berthoud will be one of the stops. Being a motorcycle enthusiast, Dana is really excited about bringing visitors (over 3,000 are expected) to Town.

Although most people who live in Berthoud work elsewhere, those who live elsewhere and work here, or who come to visit, support the local economy through purchases. The Rally is great exposure for a town that lies in the midst of Greeley, Fort Collins, Boulder and Denver.

And, noted Dana, Berthoud has all of the qualities that those surrounding communities strive for. "A lot of people don't know Berthoud is a well-kept secret," he said, adding those other communities, such as Windsor, have experienced exponential growth, but Berthoud is currently, "sitting on the precipice to see that kind of growth of infrastructure… We have location, location, location, and growth is coming to our area."

Dana would like to see those opportunities expanded into the tax base. With the recent tax incentives passed by the Board of Trustees, Dana thinks Berthoud is a good deal. "How can you afford to pass us up?"
After Hours with the Chamber
Rob and Tera Robben, owners of Robin Event Rental, enjoyed networking with other area business owners at the Chamber After Hours hosted at Cornerstone Chiropractic April 9.

The Robbens will provide rental amenities for the Thompson Valley High School graduation, to be held at the school instead of at The Ranch as a result of student petitions to the school district.

Robben said he was impressed with the persistence and hard work the students put into having the graduation ceremonies at their own school. The Robbens, who have over 40 years experience in the business, helped the students with planning, paperwork and contracting for the event.

For more information, go online at www.RobinEventRental.com or call (970) 532-7368. They recently moved their location to 2240 W. First St. in Loveland.
Jo-2-Go Good to Go
Chamber Champions were joined by friends of new Chamber member Jo-2-Go owner Tiffany Thorstensen as the ribbon was cut Tuesday, April 14. Thorstensen said when her family sold the business in 2007, they instantly regretted the move. "I didn't realize how much of our hearts were in it."

They reopened earlier this year and now offer an expanded menu of Café Richesse coffees and espressos, soft serve ice cream treats (including Ja-Mocha shakes), bakery items, juices and other healthy drinks. Jo-2-Go drive-thru and outdoor café are located at the corner of highways 287 and 56 in west Berthoud.
Category:
News – Business
News Image: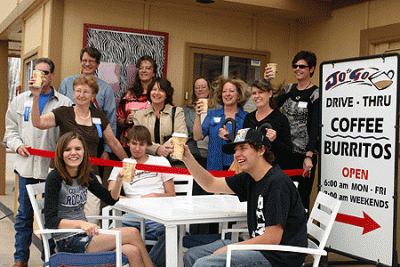 News Image: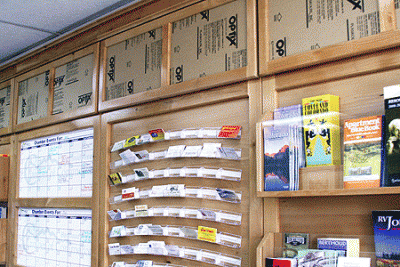 News Image: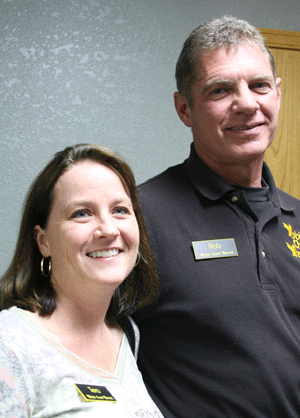 Long Description:
<p>At the Jo-2-Go opening, standing, from left, Jerry Maxner, Barbara Mitteis, Don Dana, Marti Dietrich, coffee lover Connie Troncoso, Kathy Knapp, Kim Bernhardt, Jo-2-Go owner Tiffany Thorstensen and Agi Donahue. Seated, from left, daughter/barista Amanda Thorstensen, and friends Jesse Sommers and Jake Wolf.</p>
Long Description:
<p>The new display case at the Chamber is one more way to gain exposure for business members. Sponsored ads will appear above the brochures, business cards and coupon section.</p>
Long Description:
<p>Rob and Tera Robben, owners of Robin Event Rental, enjoy networking with other area business owners at the Chamber After Hours hosted at Cornerstone Chiropractic April 9.</p>
Category Lead:
Category Primary Featured Story

Print This Post