By Jamie Folsom
Berthoud Recorder
July 4 marks Don Dana's first year as executive director of the Berthoud Area Chamber of Commerce, and he believes it's been a good one.
His first impression of the job was very clear. "I thought that it would be a HUGE challenge, especially for one person," Dana said. The greatest need at the time, he noted, was building "cohesiveness within the business community."
"Get everybody talking with each other … communicate."
And to do that, Dana went out and met one-on-one with as many members as he could. His goal was to "take the pulse and to find out their needs," he said. To help him build solid lines of communication, Dana made use of a membership contact database and regular e-mails through Chamber Master.
His proudest moments on the job have centered around the community events. "Berthoud Day was a great success," he enthused. "And Christmas in Berthoud … was emotionally fun and very uplifting for me."
Over the past 12 months, the BACC has grown considerably, going from 143 members listed in the 2008 directory to 184 for 2009. He acknowledges that the success and growth the Chamber has experienced during his first year is due mostly to "team work and support from the board – — they've been great."
And according to Board President Stephanie Hartsel, who is a long time member of the Chamber, the feeling is mutual. "He has a high commitment to the members, and cares about their best interests," she said.
"He's been such a great return on investment for the chamber as a whole. He's just got positive energy," Hartsel enthused, noting that in the past the chamber has lost a lot of what she calls "tribal knowledge" that leadership passes on to new people. Now, with Don's expertise and commitment to establishing and re-establishing good relations in the surrounding areas, she says the learning curve is faster for the group.
Dana's next big goals for the Chamber? "I want to improve and expand the Chamber physically so that it's a true chamber and visitor center." The Chamber recently installed a large display area for informational materials as well as places for advertising, local publications and event calendars.
And of course, increasing the membership base is foremost in Dana's mind. "We can accomplish a lot when we have more assets in the pot," he said.
---
To keep his goals clearly in mind and to keep himself motivated, Dana has the BACC's mission statement on his computer desktop: "We enhance the economic well-being of our Berthoud area Chamber partners and support our area communities."
Category:
News – Business
News Image: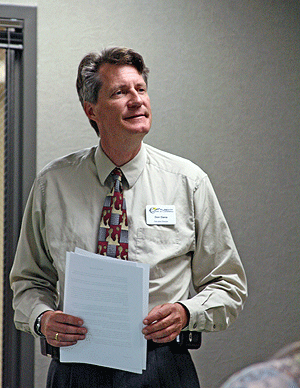 Long Description:
<p>Berthoud Chamber Executive Director Don Dana at a recent chamber luncheon.</p>
Category Lead:
Category Secondary Featured Story
Home Lead:
Home Page Primary Featured Story

Print This Post