By Laurie Hindman
Berthoud Recorder
The holiday season is rapidly approaching and while most children get ready for the season with excitement and gleeful anticipation, for parents struggling with debt, unemployment, health care issues and even foreclosure, the holidays can bring stress and despair. The Berthoud community has a history and tradition of reaching out to those who are hurting — this year's Christmas in Berthoud affords those in need an opportunity for some holiday assistance and those who are able with an opportunity to give.
Christmas in Berthoud 2008 raised over $10,000 in cash donations and collected close to $5,000 worth of toys, warm clothing and other gifts. Volunteers delivered presents, gift cards and food gift cards to over 50 families and 75 children. This year, the Christmas in Berthoud committee, comprised of the Chamber of Commerce and dedicated volunteers, has a goal of raising $15,000 in cash to help needy families in the Berthoud Community. To date they have raised close to $5,000. Melissa O'Leary, a Christmas in Berthoud committee member and one of the key organizers last year, said there are desperate families in our community.
"With the economy being worse than ever, the need for help is even greater. We need to step up as a community to help provide Christmas to families and children who won't have one otherwise."
To that end, numerous fundraising activities are planned as well as fun-filled family events, entertainment and lots of gift shopping opportunities for everyone. Christmas in Berthoud 2009 events are scheduled throughout the weekend of Friday, Dec. 4, through Sunday, Dec. 6.
Events include an arts and craft show at Grace Place, an art show and sale at Wildfire Community Arts Center, homemade wreaths and burritos sale at Berthoud Foursquare Church, chili dinner at the Community Center, concerts, pony rides and, of course, the annual Parade of Lights and the arrival of Santa at 5 p.m. on Saturday.
Once again there will be "make and take crafts" at Berthoud Elementary from 10 a.m. – 2 p.m. Crafts cost between $1 and $5 to make and all proceeds will benefit the Christmas in Berthoud fund.
Friday evening and all day Saturday, starting at 10 a.m. and lasting until 8 p.m., shoppers will have an opportunity to support our local businesses while taking advantage of sales and special offers during the Christmas in Berthoud Gift Tour. Participating businesses will have beautifully designed Christmas trees and wreaths available for silent auction bids and raffle tickets for sale for numerous gifts.
Like last year, a home-based business expo is planned for Saturday, from 2 to 7 p.m. at the Berthoud Area Community Center. Over 14 vendors and several non-profit groups will showcase and sell their holiday gift items with a portion of the proceeds benefiting the Christmas in Berthoud fund. Vendors include Tomboy Tools, Avon, Arbonne, Mary Kay, the BHS booster club selling Spartan wear and Nightwinds Tack will be making a return appearance to Berthoud with equestrian wear and gifts for the horse lover. While there, take a break from shopping and enjoy a piping hot bowl of chili for sale by the Golden Links or get your photo taken with Santa. Santa will be at the community center from 9 a.m. to 5 p.m. when he has to make his grand entrance in the Parade of Lights.
Some of the events require advance ticketing and reservations. Grace Place is sponsoring a Ladies Tea, with entertainment, on Saturday, Dec. 5, from 10 a.m. to 1 p.m. Three hundred seats are available; Tickets are $9 each and are available at the Grace Place office. For more information call 970-532-9886.
If you are feeling like something stronger than tea, the Retro Bistro is hosting a "Ladies Only Champagne Brunch" on Saturday, Dec. 5 at 11 a.m. The cost is $30 per person with a portion of the proceeds going to Christmas in Berthoud. After lunch the ladies will take a walking/shopping tour of Berthoud's Festival of Trees in Town businesses. Payment is due by Nov. 15 and may be mailed to: Dorian Ryan-Tacy at 947 5th Street or Jen Rotar at 101 Common Drive. For more information, call 532-4320.
"Christmas Time with Steve Desmond and Friends" is a concert and catered dinner Friday, Saturday and Sunday evening at 6:30 p.m. Tickets are required and must be paid for in advance by calling Steve Desmond at 970-302-4388 or Grace Place at 970-532-9886. Tickets cost $12 per person and must be purchased by Nov. 30.
Starting next week, donation cans for cash and coins will be available at area businesses. Non-perishable food, toy, and warm clothing boxes are already available for donations at Main Street Auto Care with more boxes becoming available soon.
Home State Bank on Mountain Avenue is accepting tax-deductible cash donations. O'Leary stated that if everyone in the Berthoud area donated $5, we could have over $25,000 to help our hurting families. Checks should be payable to Christmas in Berthoud 2009 and can be dropped off at the bank or mailed to Home State Bank, c/o Christmas in Berthoud 2009, PO Box 719, Berthoud, CO 80513.
According to O'Leary there are plenty of ways people can serve. For the most recent update information on Christmas in Berthoud 2009 events and volunteer opportunities, or to nominate a family to receive gifts and food, go to www.ChristmasInBerthoud.org or call Don Dana at the Berthoud Chamber office at 970-532-4200.
Category:
News – Community
News Image: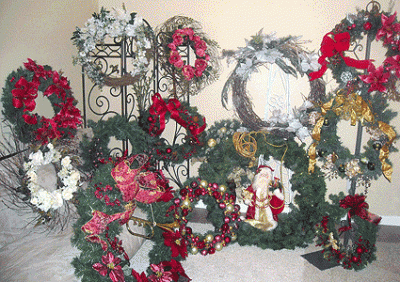 Long Description:
<p><span style="font-size: small;"><span style="font-family: arial,helvetica,sans-serif;">Beautifully decorated wreaths and trees will be auctioned off in early December, in plenty of time for the holidays.</span></span></p>
Category Lead:
Category Lead Story

Print This Post