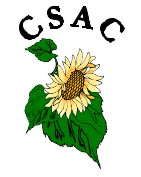 Colorado sunflower growers will have an opportunity to vote on an amendment to the Colorado Sunflower Marketing Order. The referendum will allow Colorado sunflower growers to vote on a sunflower assessment increase. Currently the sunflower assessment is set by statute at 3 cents per hundredweight. The proposed new rate will be up to 6 cents per hundredweight. The increase will be invested in high priority sunflower research projects that will discover yield improvement strategies such as disease and insect management, improved hybrid testing strategies, and quality improvement to both oil and confection type sunflower.
Leon Zimbelman, President of the Colorado Sunflower Administrative Committee, states, "Adjusting the sunflower assessment will allow more investment into sunflower production research right here in Colorado. That will translate into more profit for Colorado sunflower producers as new production information is generated.  The return on investment from sunflower research has been tremendously successful in the past."
"The Sunflower Marketing Order is a key component of the industry and I encourage our state sunflower growers to actively participate in this process," said Commissioner of Agriculture John Salazar. "I look forward to hearing from our growers concerning this important vote."
Ballots will be mailed to current sunflower growers within the state of Colorado. Growers will be instructed to cast their vote and forward them to the Colorado Department of Agriculture (CDA).  The CDA will count them and report the results to Agriculture Commissioner John Salazar.

Print This Post