By Jamie Folsom
Berthoud Recorder
Sometimes a story is just too good not to be told. Ira Levin's classic "Deathtrap" is much beloved by those who have seen it, but if you haven't had the pleasure, make room for it now.
There isn't much I can say about the plot because it is, after all, a suspense/thriller. But suffice it to say there are several posters around the lobby of the Longmont Performing Arts Center warning the audience that there will be gunshot. That alone sets the tone for the first scene, in which a typically uptight Connecticut couple — the Bruhls — are not all they seem.
The set is wonderfully done and the props (battle axes, handcuffs, katana sword, manual typewriter) are distractingly curious. And then there is the phone. With a cord. And the great sound of dialing. Terrific details that add a lot to the production.
The acting could have been more solid and the tension of the plot was sometimes overshadowed by the comic relief, but overall, it's a lovely evening out with imaginative friends who like to outguess the characters. Who knows? One of you may be inspired to write your own story.
---
DeathtrapLongmont Theatre Company
(Original play written by Ira Levin, 1978)
Cast: Patrick Collins (Sidney Bruhl, a writer), Stephany Roscoe (Myra Bruhl, his wife), Jon Howard (Clifford Anderson, an aspiring writer), Marian Bennett (Helga ten Dorp, a psychic), Scott Rochat (Porter Milgram, a lawyer)
Approximate rating: PG-13 for adult content, some language and stage violence
Showing: April 25, 26, 30 and May 1, 2
Showtimes: 7:30 p.m. and Sundays 2 p.m.
Where: Longmont Performing Arts Center, 513 Main Street, Longmont
Tickets: Online at www.LongmontTheatre.org; box office (303) 772-5200
News Image: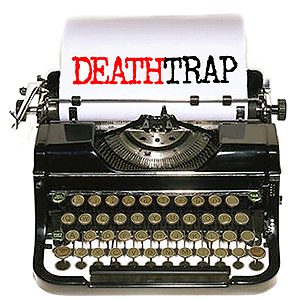 Category Lead:
Category Lead Story

Print This Post